SPEEDIO S-300Xd1 / S-500Xd1 / S-700Xd1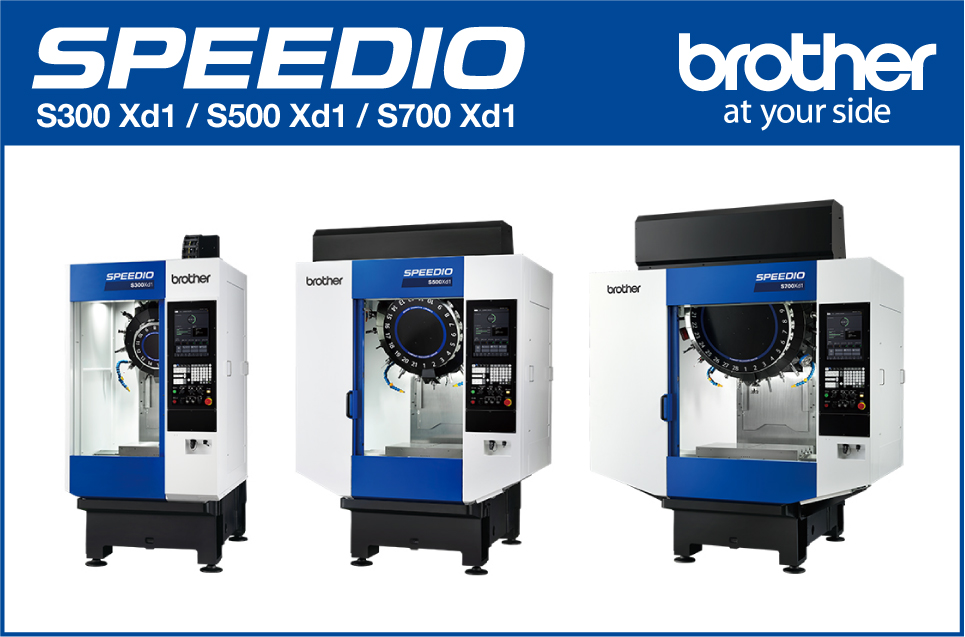 The best processing solution for a wide range of applications:
ATC non-stop
The high-speed tool change was made by starting / stopping the shaft faster and more optimized, the Z axis up / down and the operation of the magazine. Tools up to 3 kg can be changed as soon as possible. Tools up to 4 kg can also be replaced with a minimum increase over time.
Enlarged tool magazine
The new 28-tool magazine enables a greater variety of machining on a single machine.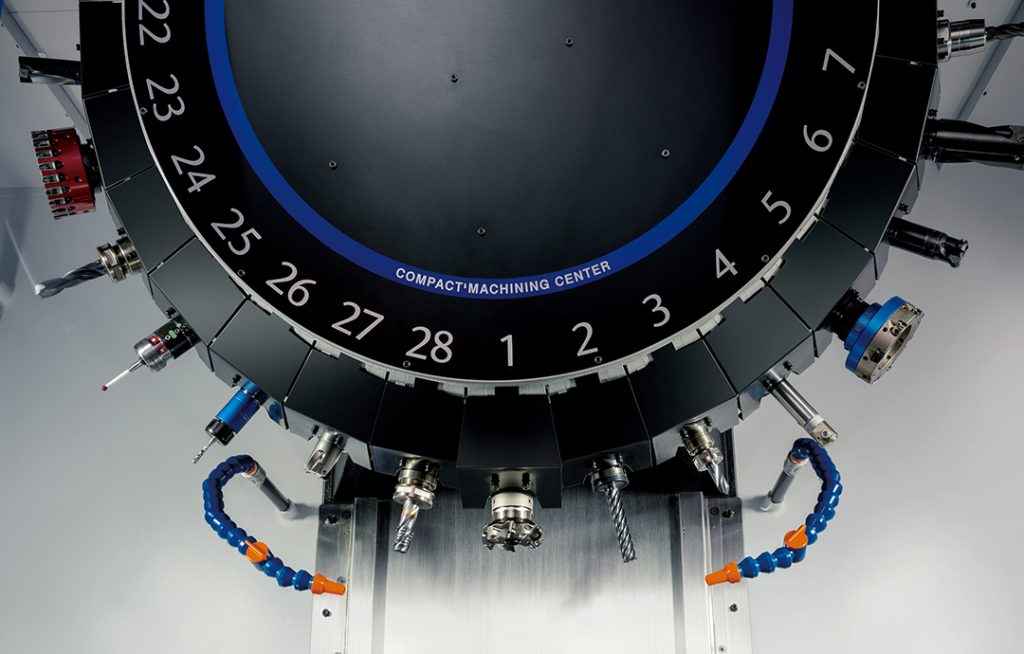 With an expansion of the tool magazine to 28 tools, the machine offers more capacity for tools and tool holders, the integration of several processes in a single machine, such as multi-sided processing.
Together with a wide range of options, the Brother SPEEDIO S-Xd1 series of multifunctional CNC machines are ideal for the semiconductor, electronics, robotics, automotive, precision instruments and medical industries.
Simultaneous operation
The wasted time was reduced by performing the tool change and X / Y positioning and additional axes simultaneously.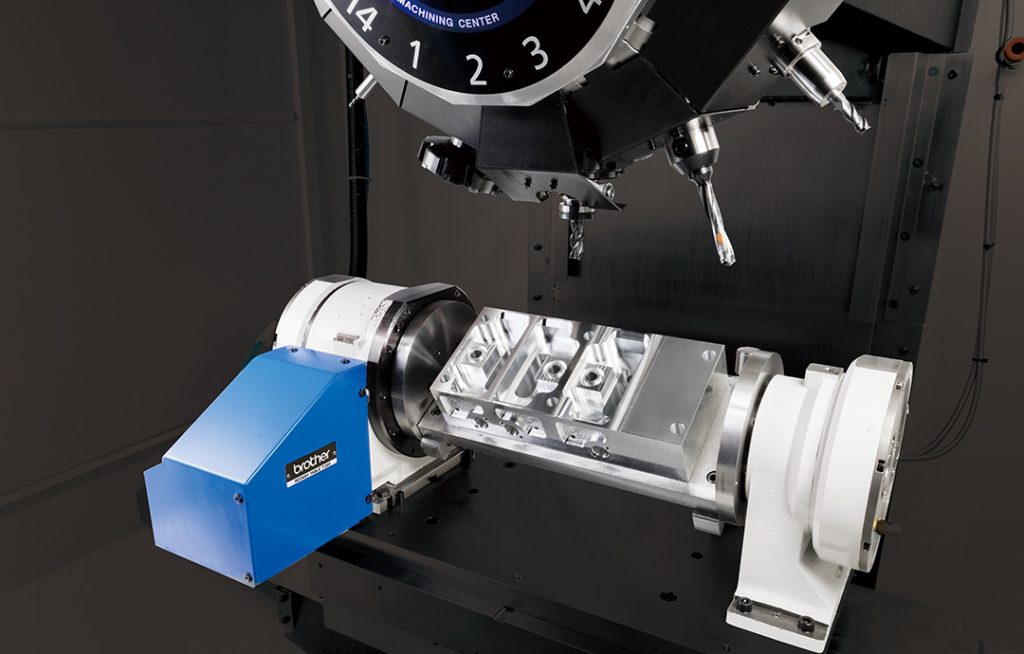 Max. Table load capacity 400 kg
The maximum load capacity of the table has been increased to 400 kg. This expands the fixation options and promotes process integration.
Main shaft with high acceleration / deceleration
Using a low inertia shaft and a motor with a high acceleration / deceleration shaft, a faster shaft start / stop was achieved. High acceleration Z-axis.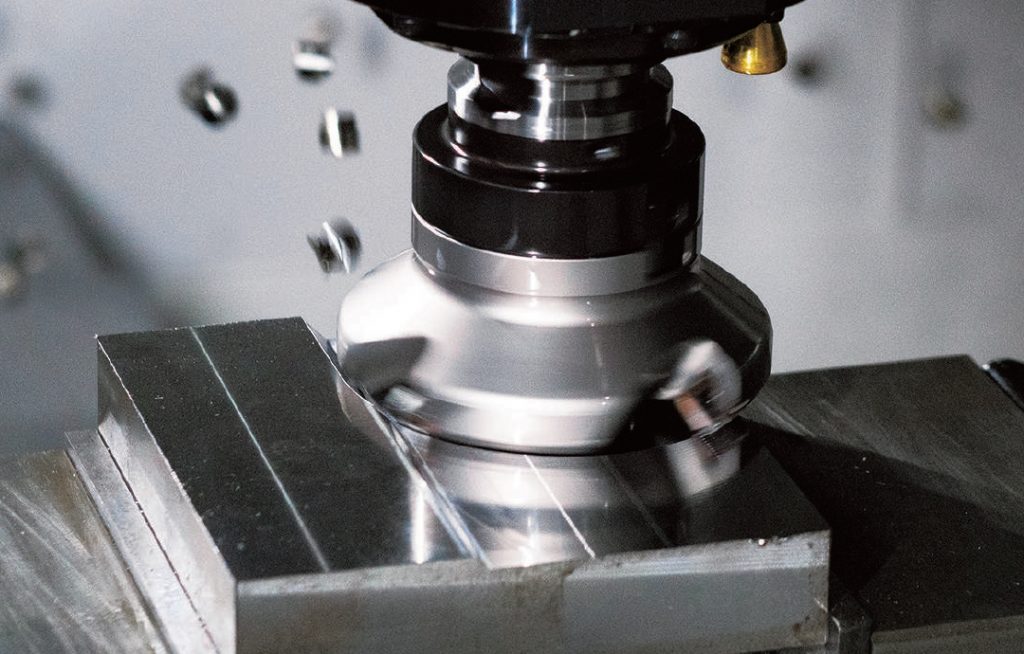 Z axis with high acceleration
As the Z-axis moves frequently, the highest acceleration in its class has been achieved, contributing to reduction in cycle time.
Optimal X / Y axis acceleration setting
This function sets the optimal acceleration for X / Y axes according to the table loading capacity.
The very rigid machine structure and the extremely efficient spindle motor allow a wide range of plate processing
Prepared axles applicable to processing in various industries, from automobiles to semiconductors, precision parts and IT equipment industries. The new NC with improved processing speed achieves high speed and high precision performance even in three-dimensional processing.
Heavy duty / highly efficient using high shaft motor efficiency
A high torque motor in the medium and high-speed range is used to achieve high speed and highly efficient machining. In addition, the high torque specifications. the machine demonstrates a higher torque in the medium and high-speed range and greatly improves the torque in the low-speed range. The machine offers excellent heavy-duty performance, such as large-diameter drilling and threading
High-speed, high-precision three-dimensional machining
Using high speed shaft and high precision mode in addition to the highly responsive servo control, the speed and resolution of the servo processing have been greatly improved. Improved original control of three-dimensional machining, including increased anticipation blocks and improved surface quality through the smooth path shift function, achieves high-speed, highly accurate three-dimensional machining.
Shaft Coolant (CTS) (optional)
The CTS option can be selected from 3 MPa or 7 MPa. With this option, the machine can operate to its full potential in high-speed drilling or hammer drilling.
Higher machine rigidity and minimal vibration
Using topology analysis, the shapes of the base and column were modified to improve both static and dynamic stiffness. The machine can demonstrate high machining capabilities, while reducing the effects of external vibrations on the quality of the machined surface.
Equipped with the new "CNC-D00" controller Improved use with 15-inch LCD touch panel
Intuitive operation is possible with new applications and the vertical touch screen. Relevant functions are grouped by purpose, such as configuration and processing, leading to efficient operation. Production and operating conditions are visualized, allowing for a faster understanding. Waste-free operation is possible in the process of configuration, adjustment of processing, production and recovery, which leads to improved work efficiency and operating rate.