IMPROVE UTILIZATION BY CONNECTING MACHINE TOOLS
Okuma's Connect Plan is an ideal solution for customers trying to improve their machine utilization.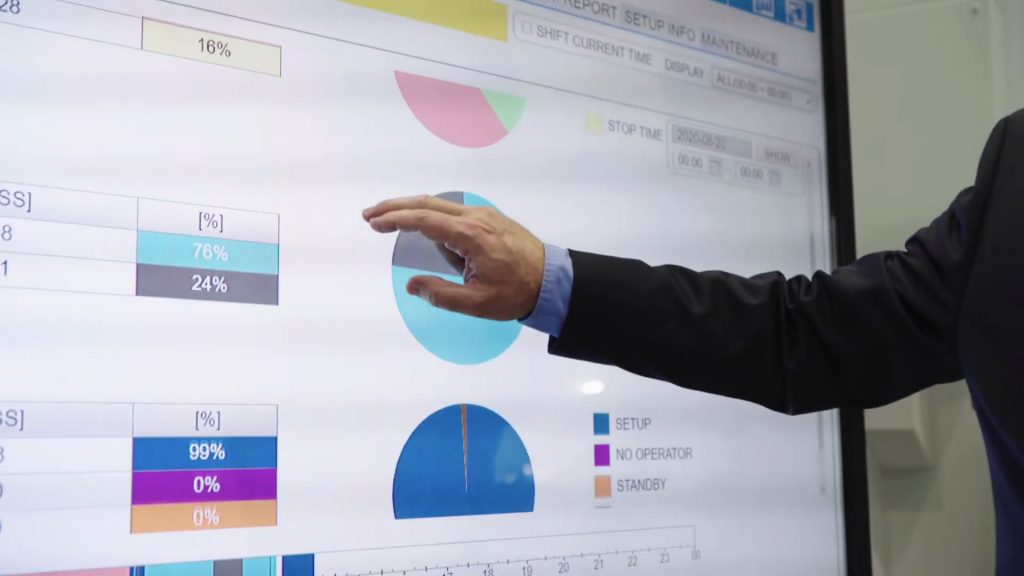 Ask any shop owner what their machine utilization is, and chances are they'll significantly overestimate this number. This isn't because operators are overly optimistic. It's simply because, until now, it was too cumbersome to actually measure utilization data and monitor it for needed adjustments over time.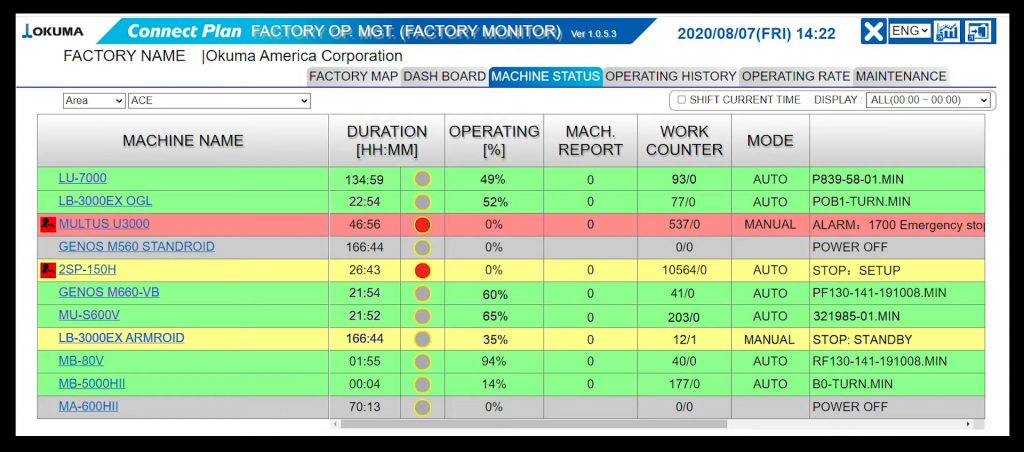 Okuma's Connect Plan is a software-based system that collects machine tool data and provides detailed information that can be used to fine-tune processes and improve productivity.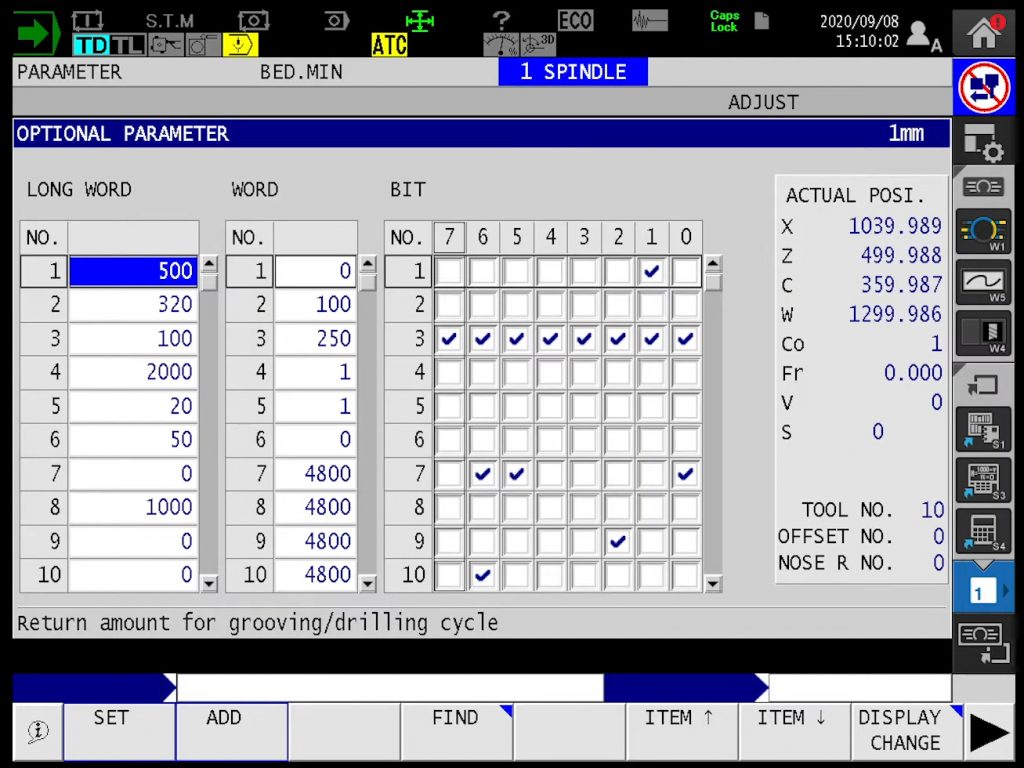 Custom parameters can be added to the system and data are collected from the CNC machine to Connect Plan Application.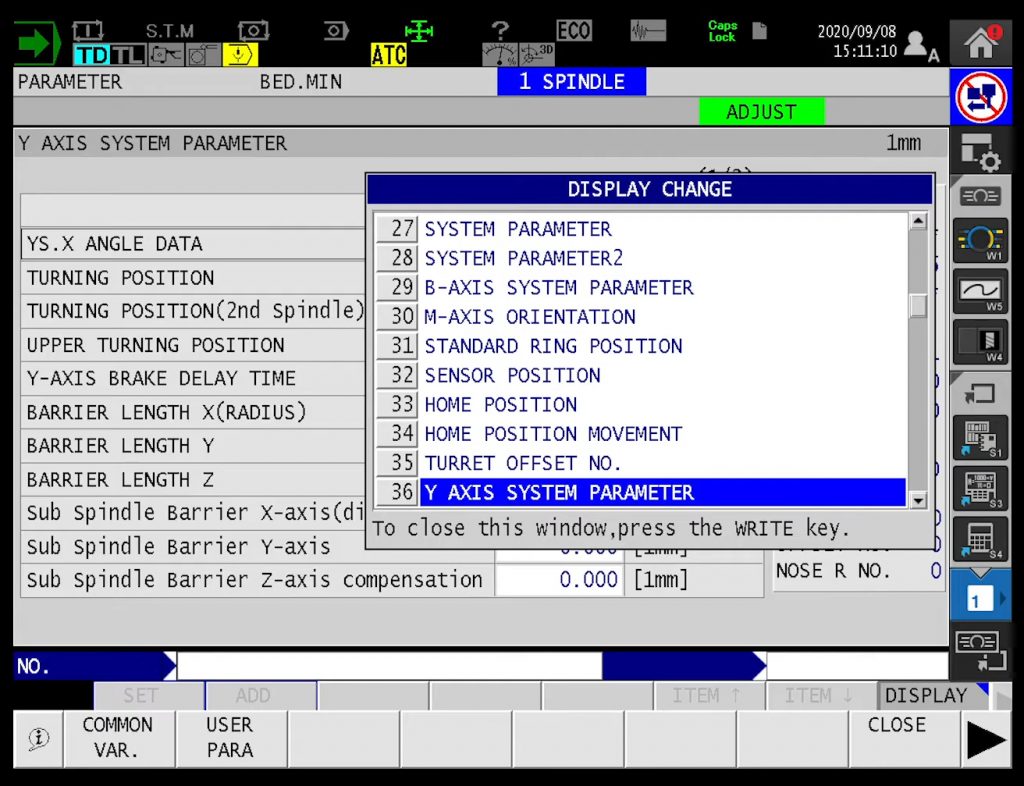 Consider a common scenario. A machine tool operator, when asked, estimates his current spindle utilization on a particular machine to be approximately 70-80%. Upon installing Connect Plan he discovers that the actual number is much lower. We've seen many instances of actual machine tool utilization in the range of 25%.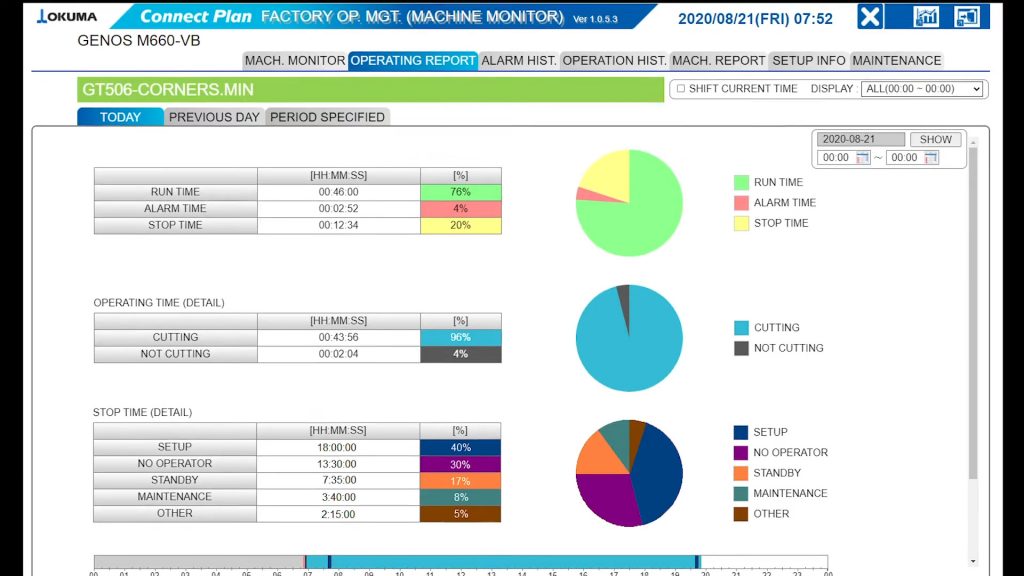 Armed with this knowledge the user now pays close attention to red, and especially yellow, machine status situations. What's causing these conditions, and how can we resolve them? Even better, how can we prevent these occurrences?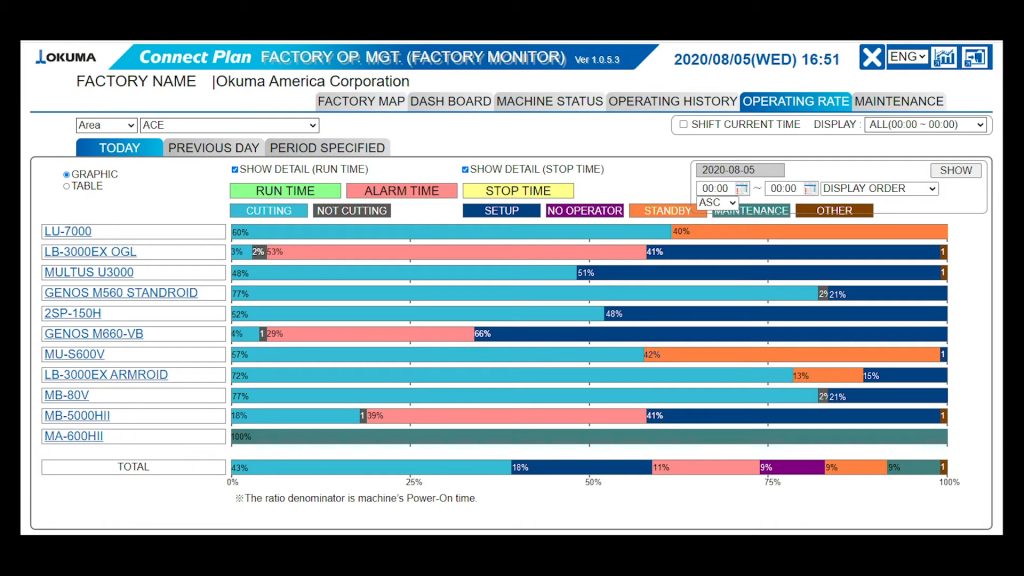 Machine utilization can quickly be increased when we know what to look for, and have a system for measuring data so we can adjust processes.
CONNECT, VISUALIZE, IMPROVE
Connect Plan provides analytics for improved utilization by connecting machine tools and providing visual information of factory operations and machining.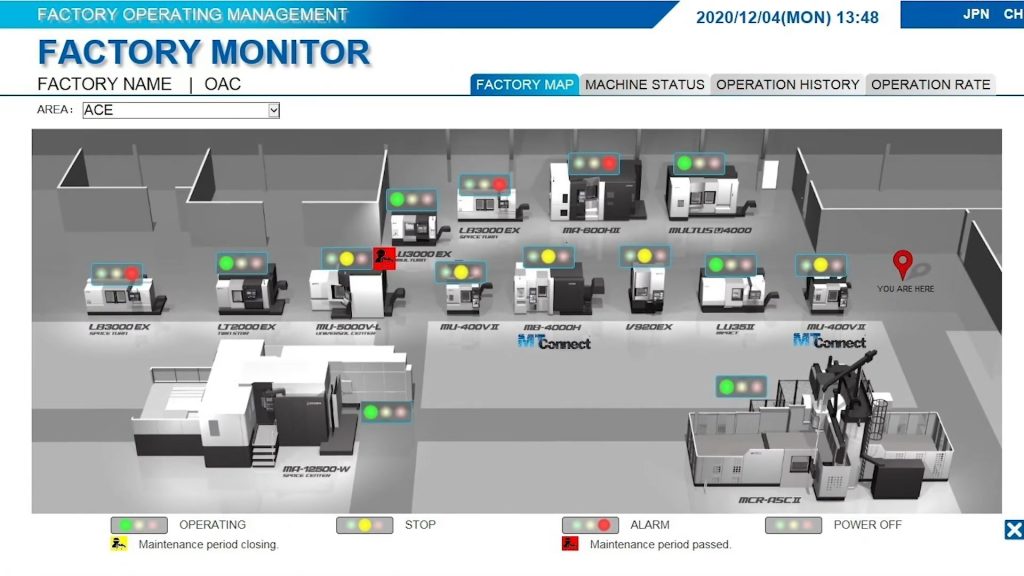 Simply connect the OSP control (accommodations can also be made for non-Okuma controls) to a server and install the Factory Monitor suite on the server to see the machine operation status from the shop floor, from an office, from a smartphone, or virtually anywhere.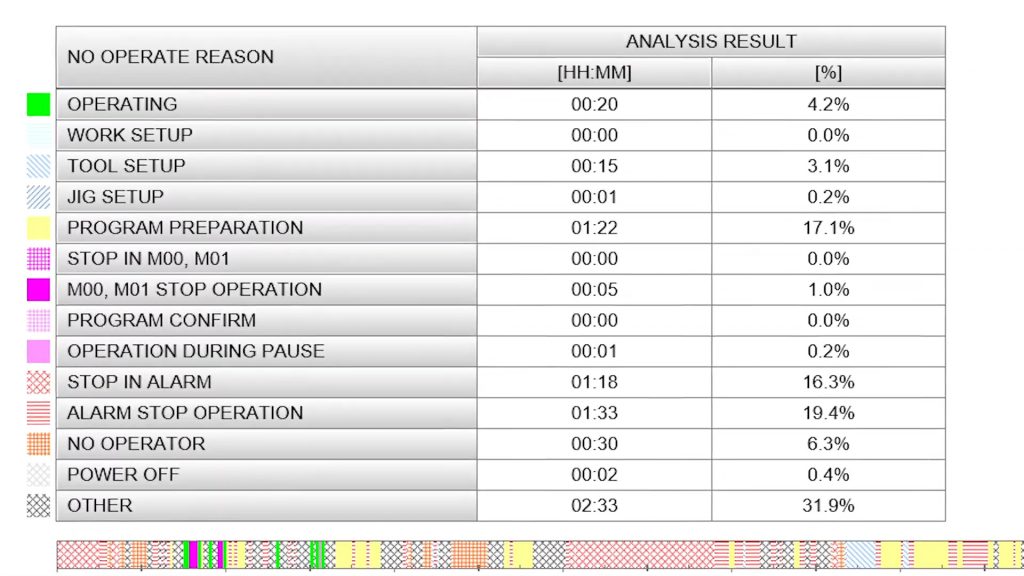 HOW IT WORKS
The Factory Monitor suite collects critical data from the machines in the network, and presents it in easy to read graphs through a standard web browser. The data is also automatically archived, which allows you to come back later, download it to a spreadsheet and perform further analysis. You can easily access things like:
Machine status
Maintenance status
Machining report (part programs history)
Operation history (commands history)
Alarms history
Okuma also offers the optional Net Box suite S, which protects your network against cyberattacks, and Net Box suite C, which allows you to connect to older machines that could not be networked and even machines from other builders.
CONNECT PLAN IN ACTION
Factory Operations: By visualizing current operating results, machine stoppages can be noticed quickly, and corrective measures can be taken. With alarm notification, steps can be taken even earlier, and machine stop time can be decreased. Connect Plan enables you to visualize not only past utilization rates but also alarm and operation histories.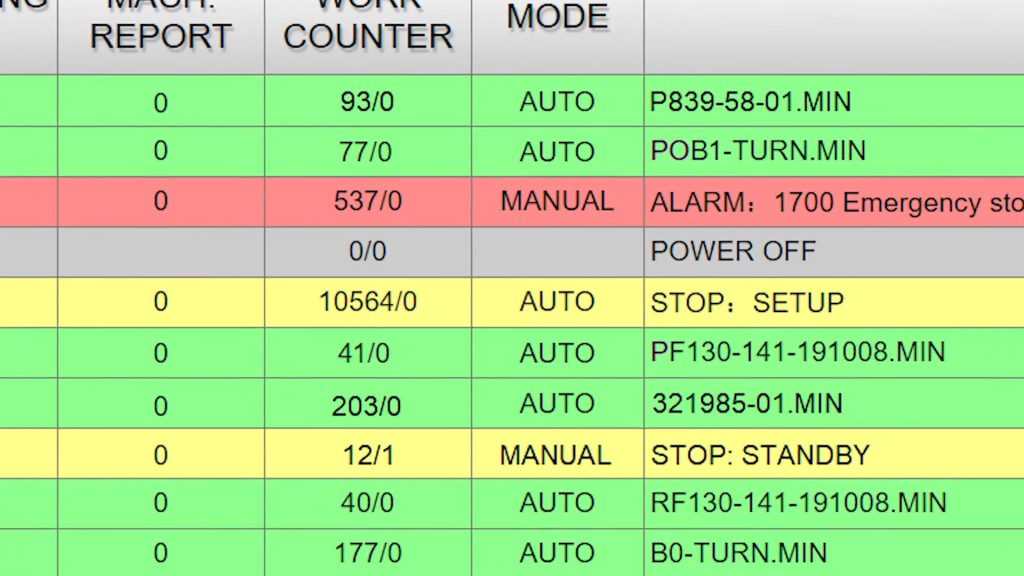 Causes of machine stops can be pinpointed and analyzed, and improvements can be made. Maintenance times can also be visualized with various icons, and future breakdowns can be prevented by becoming more diligent with machine tool maintenance.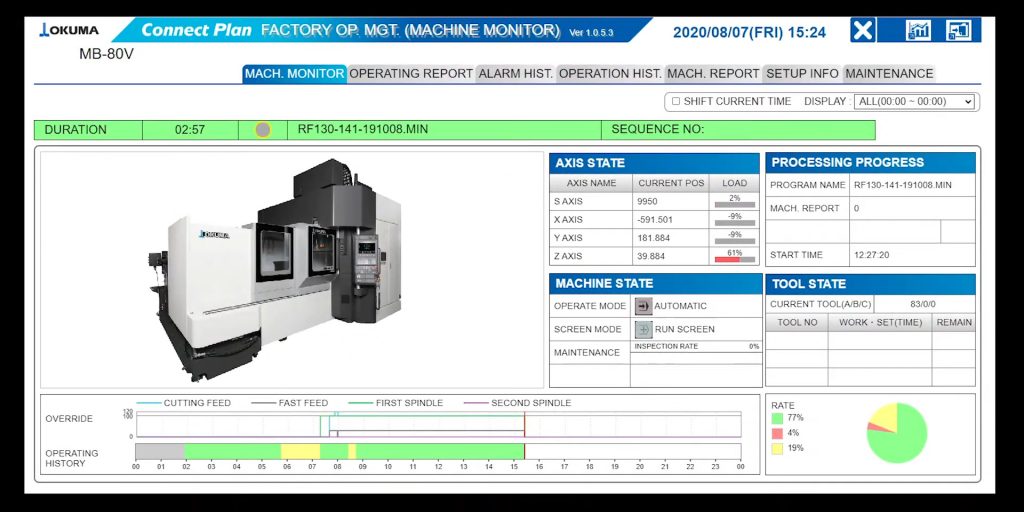 PREVIEW THE FEATURES OF OKUMA'S CONNECT PLAN WITH THE CONNECT PLAN LITE APP
Okuma's new Connect Plan lite allows you to preview the powerful features of Connect Plan on a single machine with just a quick download from the Okuma App Store. Gain the ability to view operating history and production rates in visual graph format. You can also see alarm history with live links to the alarm details and view just about anything you might find using the "MacMan" function with an easy-to-read display.
DESCRIPTION
This is the stand-alone (non-networked), single-machine version of Okuma's flagship Connect Plan product. It has only a small number of the features that are included in the full version. To learn more, please reach out to your local Okuma representative and let them know you are interested in Connect Plan.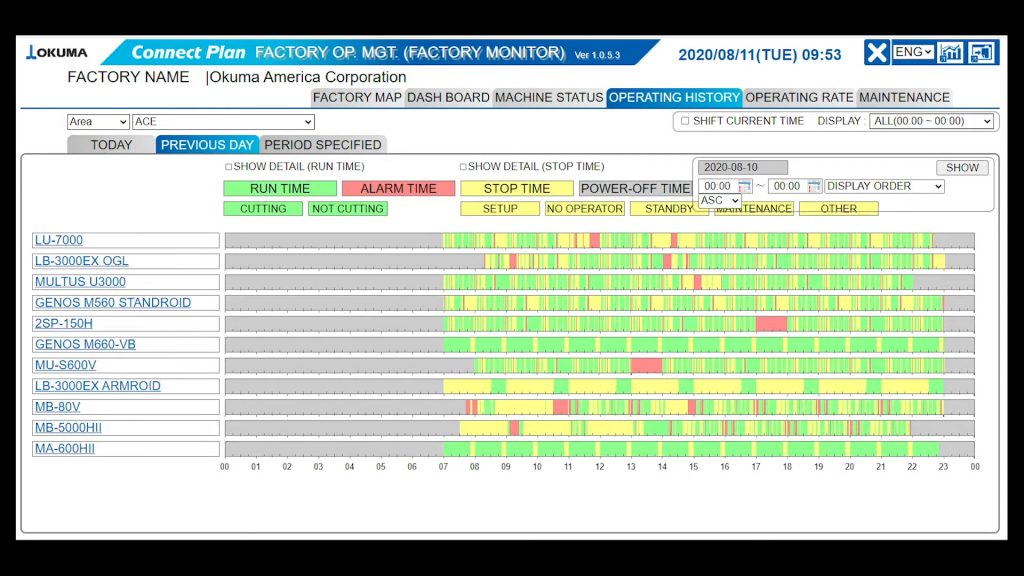 Okuma's Connect Plan is a system that provides analytics for improved utilization by connecting machine tools and visual control of factory operation results and machining records.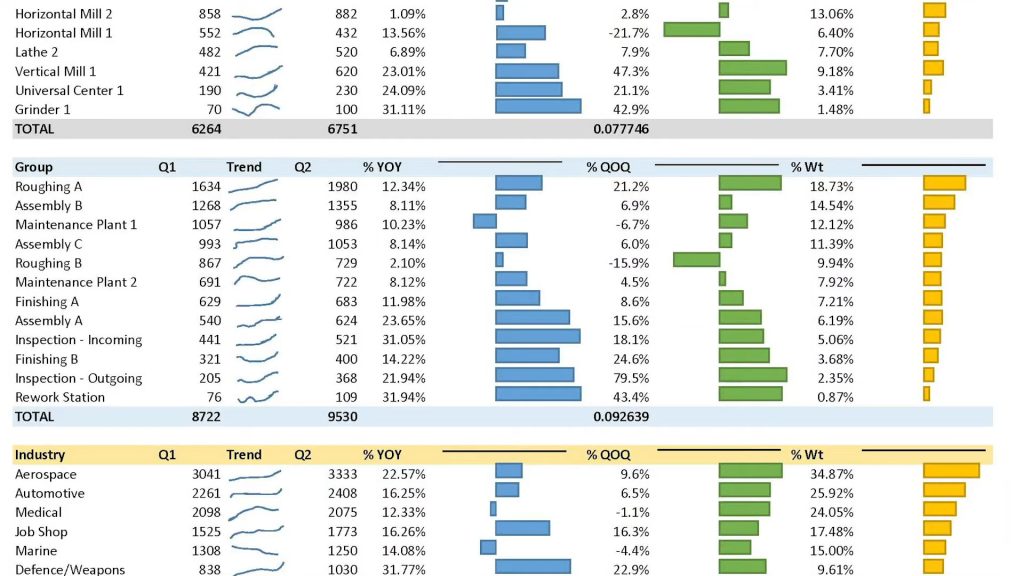 Simply connect the OSP and a PC and install the Factory Monitor suite on the PC to see the machine operation status from the shop floor, from an office, from anywhere.