Fixed Headstock Type CNC Automatic Lathe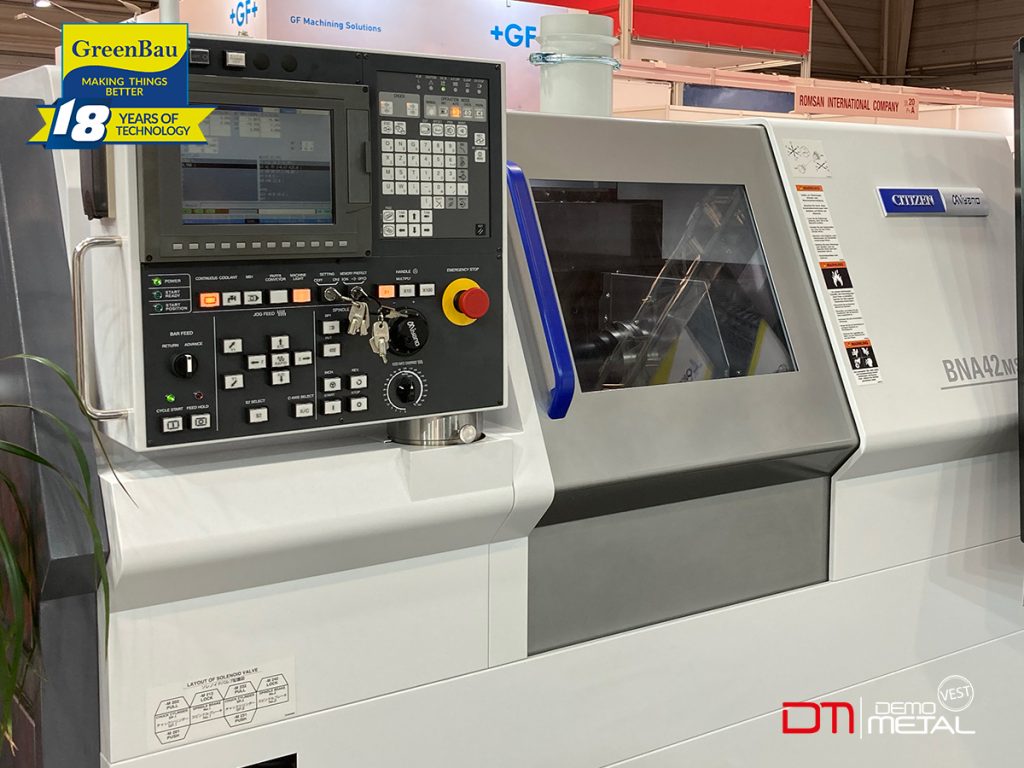 While it is a 2-spindle, 1-turret machine, it dramatically reduces cycle time thanks to a simultaneous machining through overlapping control
With two spindles, the subspindle having an additional X axis, a Y axis turret and the latest Mitsubishi control, the BNA-42MSY is able to handle complex machining, with rapid cycle times and quick set ups.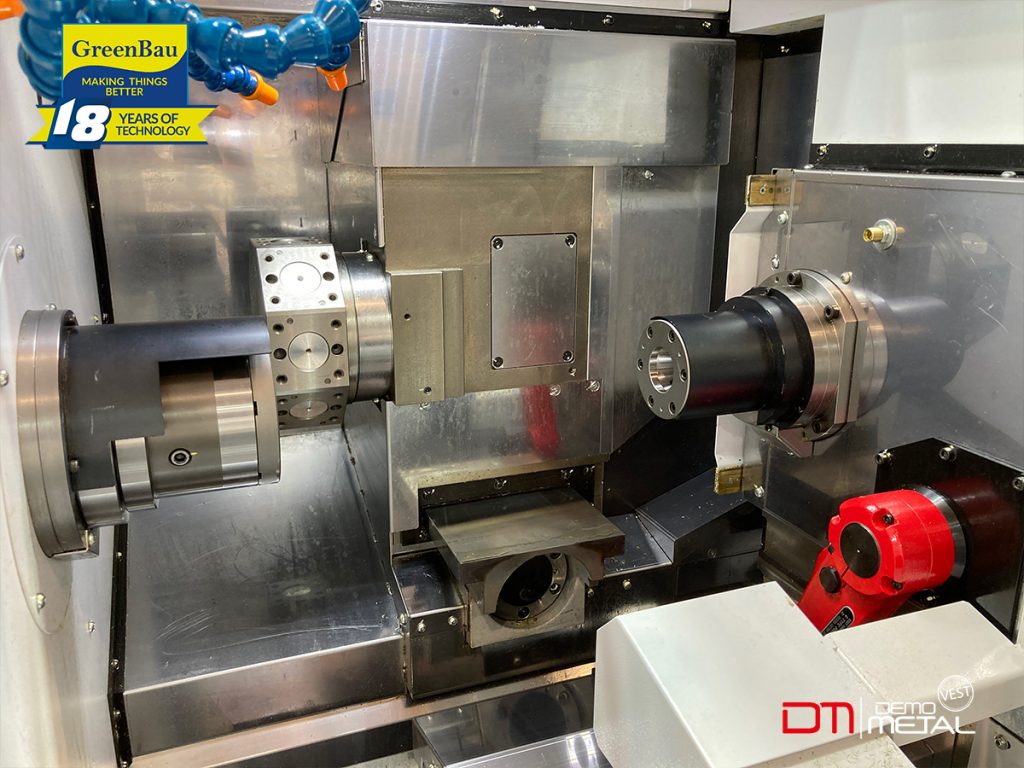 The X2 axis to sub-spindle enables simultaneous independent machining of the front and back of the workpiece. This, in effect, provides the benefits of a twin turret machine with the significant cost savings of a single turret model.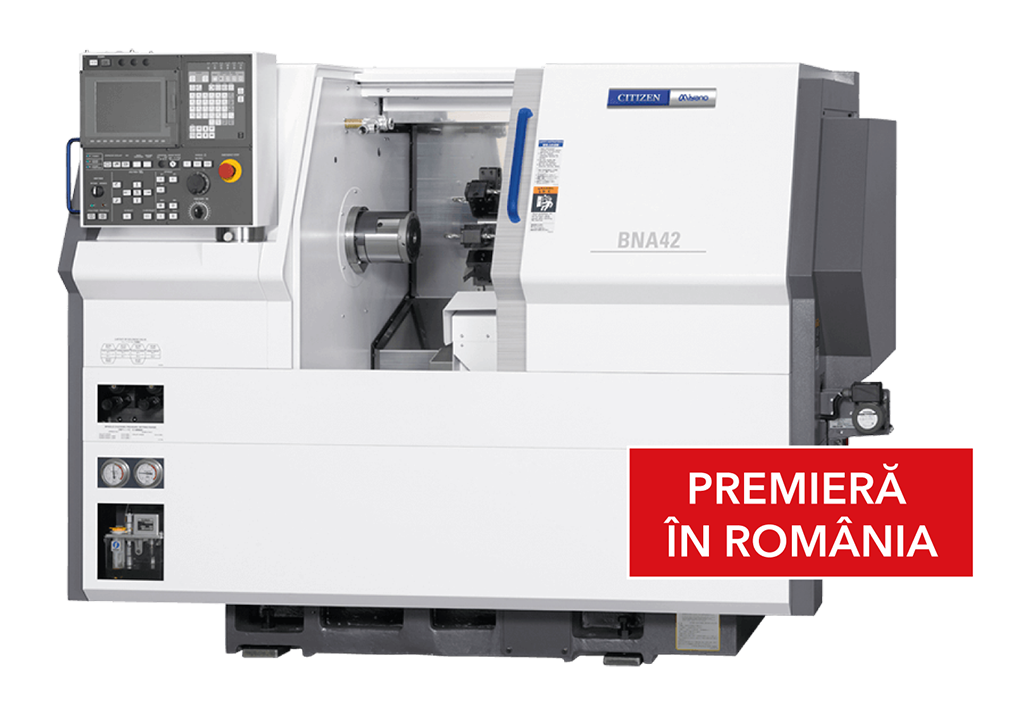 Benefits
• 2 tool simultaneous cutting
• renowned Miyano accuracy
• quick to set up and changeover
• highly efficient for small and medium batch sizes
• compact design for improved floor space efficiency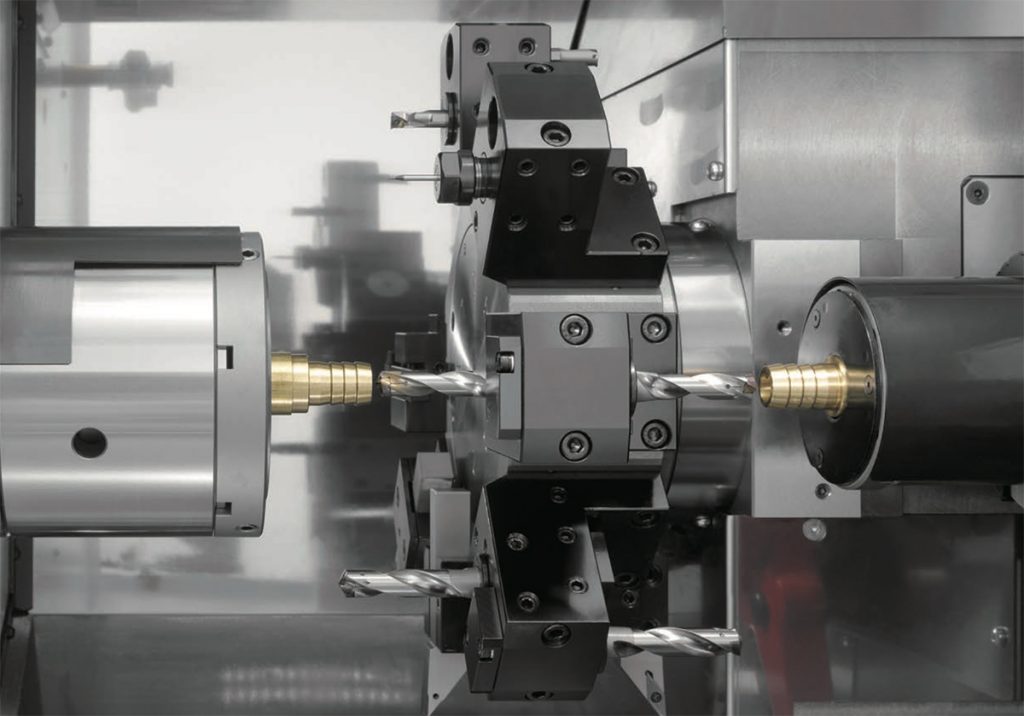 Cycle time shortened by superimposition control
A turret incorporating X, Y and Z axes (HD1) and a sub spindle incorporating X and Z axes (SP2) open up the possibility of machining by superimposition control. As an example each spindle can machine different threads at the same time – drastically lowering cycle times.
High-rigidity spindle
To achieve powerful cutting, the spindle, which is the key component in machining, is equipped with angular contact ball bearings at the front and double-row cylindrical roller bearings at the rear.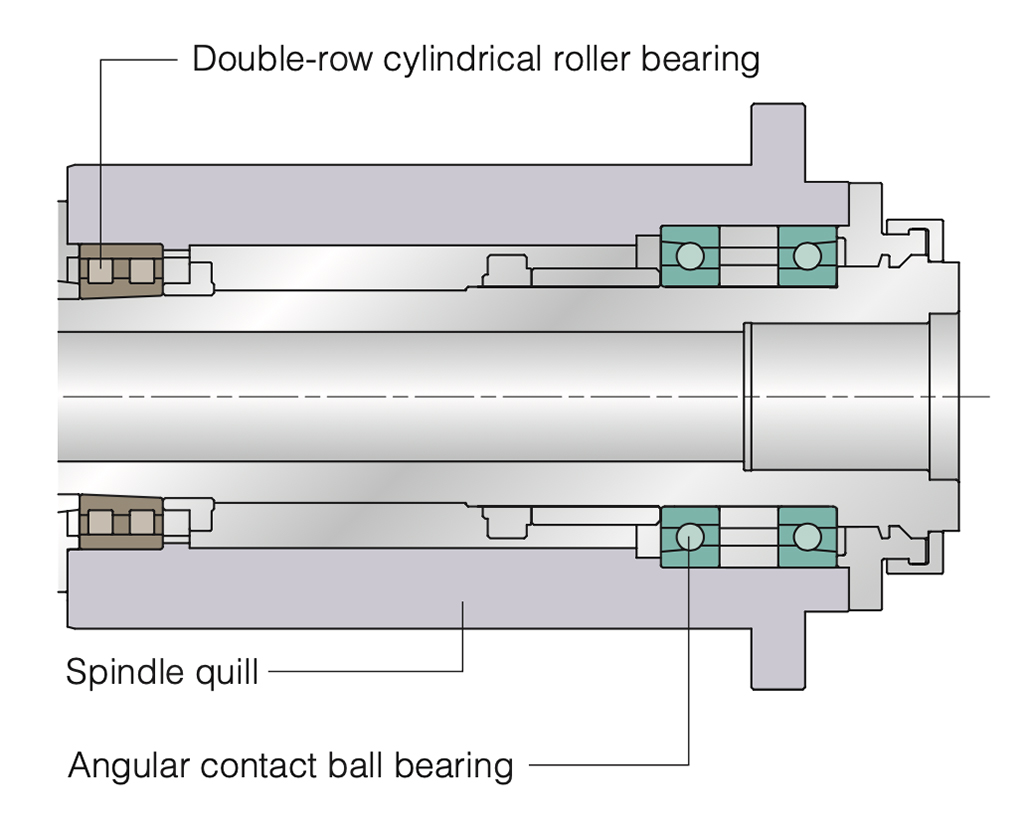 Basic construction
High-rigidity scraped slideways are used on all axes. These slideways with face contacts have exceptional rigidity and damping characteristics, achieve powerful cutting, and help to prolong cutting tool life.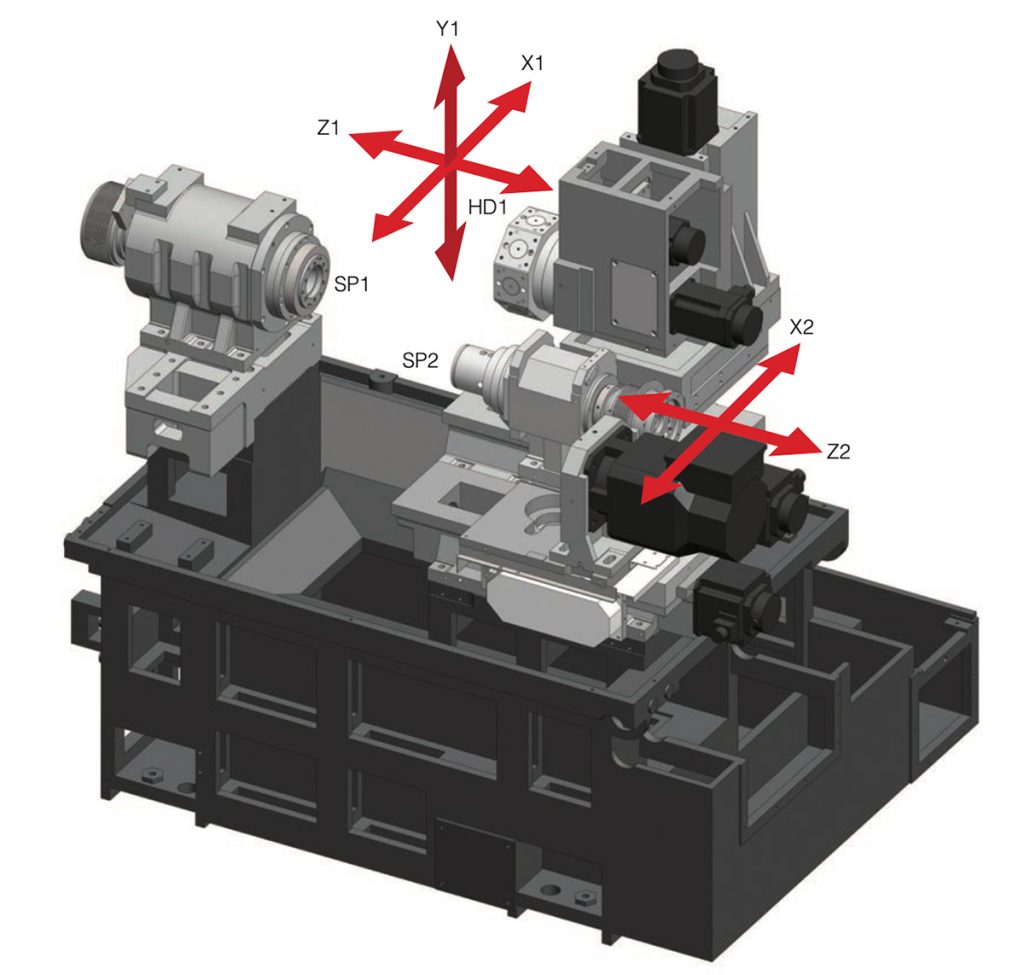 Substantial reduction in non-cutting time
The unique control system cuts non-cutting time by 27% (compared to earlier equivalent Miyano products). The result is a 13% reduction in cycle time.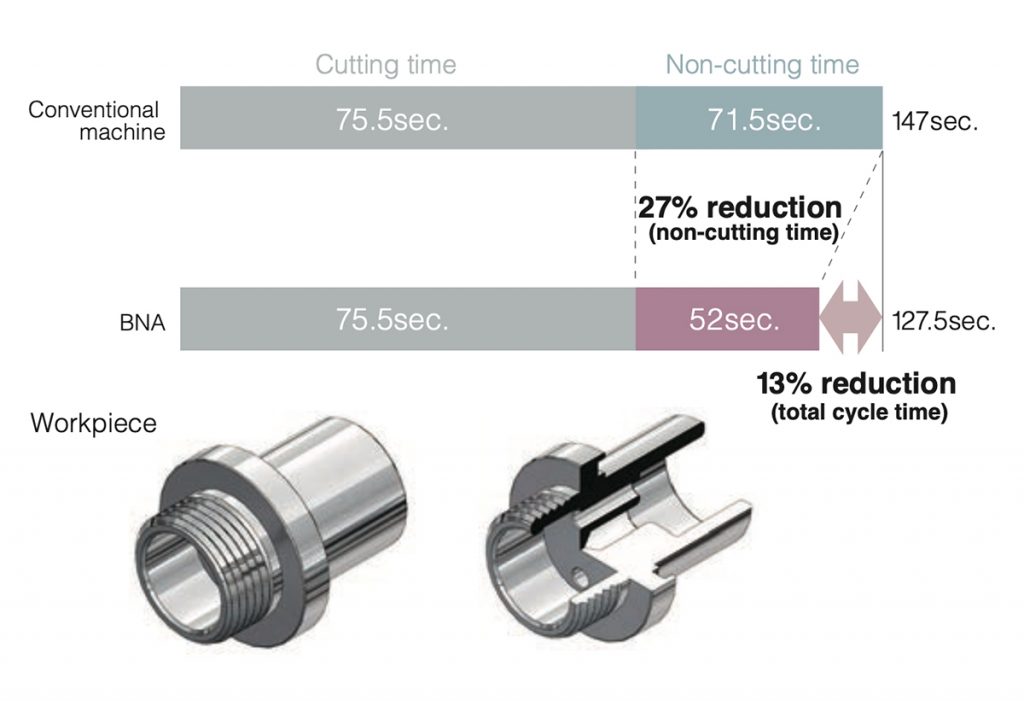 Easy to use tooling system
The turret has 8 stations, but the half-indexing mechanism makes it possible to mount tools at up to 16 positions. The use of optional multiple tool holders can further increase the number of tool positions.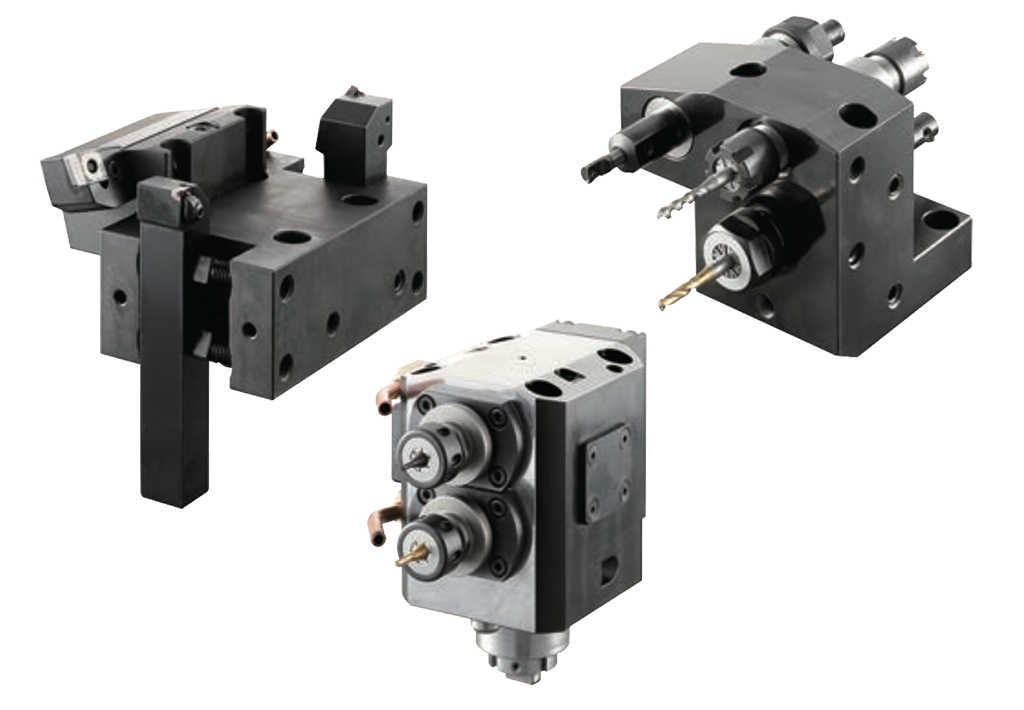 Machine Specifications
| | |
| --- | --- |
| Maximum Machining Diameter (mm) | 42 / 34 |
| Maximum Machining Length (mm) | 100 |
| Spindle motor(15min./Cont.) | 11/7.5kW / 5.5/3.7kW |
| Spindle speed (rpm) | 6,000 / 5,000 |
| Type of Turret | 8St.Turret(half-indexing mechanism) |
| Shank Height of Square Turning Tool | 20mm Sq. |
| Diameter of Drill Shank | 25mm Dia. |
| Rapid feed rate Z1, X1, Y1, Z2, X2 (m/min) | 20, 30, 12, 20, 12 |
| Maximum Number of Revolving Tool | 8 |
| Floor Space (mm2) | 2,388×1,450 |
| Weight (Kg) | 3,000 |