Made in Japan, the GENOS M460V-5AX is a machine saturated with Okuma DNA making it a technological marvel that delivers swift and efficient parts production for the tightest tolerances. With simultaneous 5-axis machining capability, our customers don't have to compromise to reduce costs.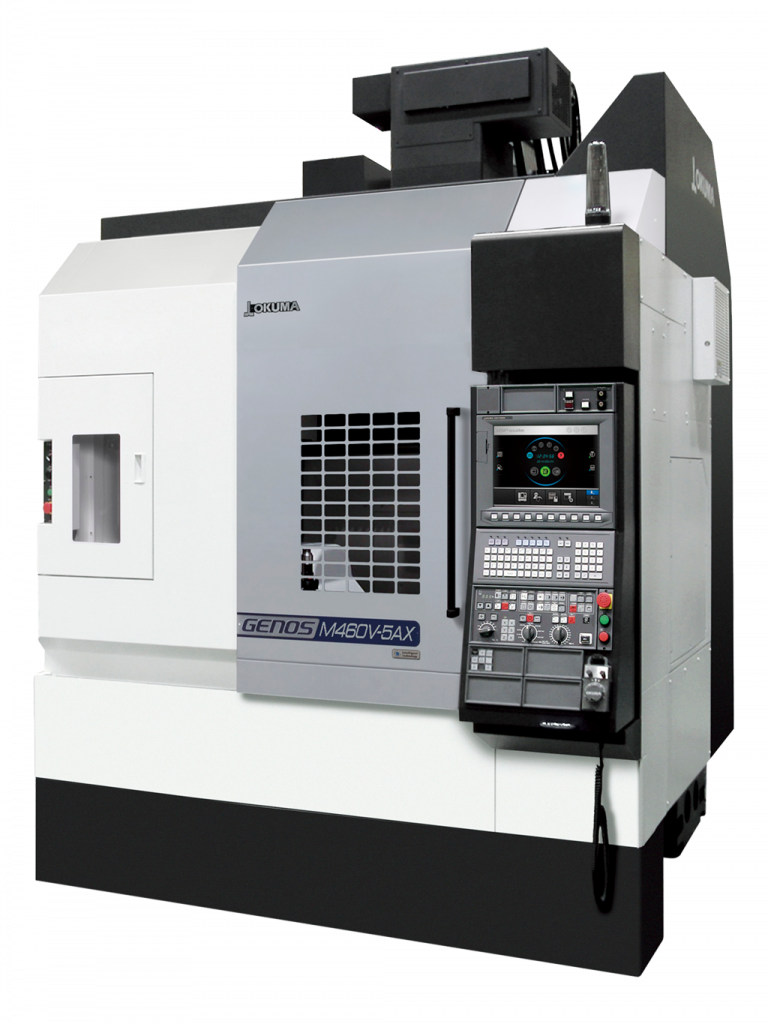 Whether they're manufacturing complex aerospace components or performing one-chuck multi-sided operations, they get superior quality and capability. No matter your machining need, the GENOS M460V-5AX comes with our intuitive, renowned OSP machine control.
HIGH-CALIBER MACHINE CONSTRUCTION, FROM TOP TO BOTTOM
Robust performance in a smaller footprint.
With its innovative double-column structure, the GENOS M460V-5AX is a sturdy next-generation vertical machining center, but one specifically designed to take up less floor space in your shop. With a full 5-axis simultaneous control system and a thermally stable design, you are granted the ability to process even the most challenging materials and geometry. This uncompromising construction is what makes the M460V-5AX such a machining powerhouse.
Spindle: Match Your Application
From titanium, to aluminum and light alloy applications, to die/molds and small precision parts, the GENOS M460V-5AX is versatile to meet your stringent application requirements. The spindle motor design produces less vibration and power loss at the tool tip, which yields excellent surface finishes and impressive metal removal rates.
Pre-Tension Ball Screws: Exacting Performance Standards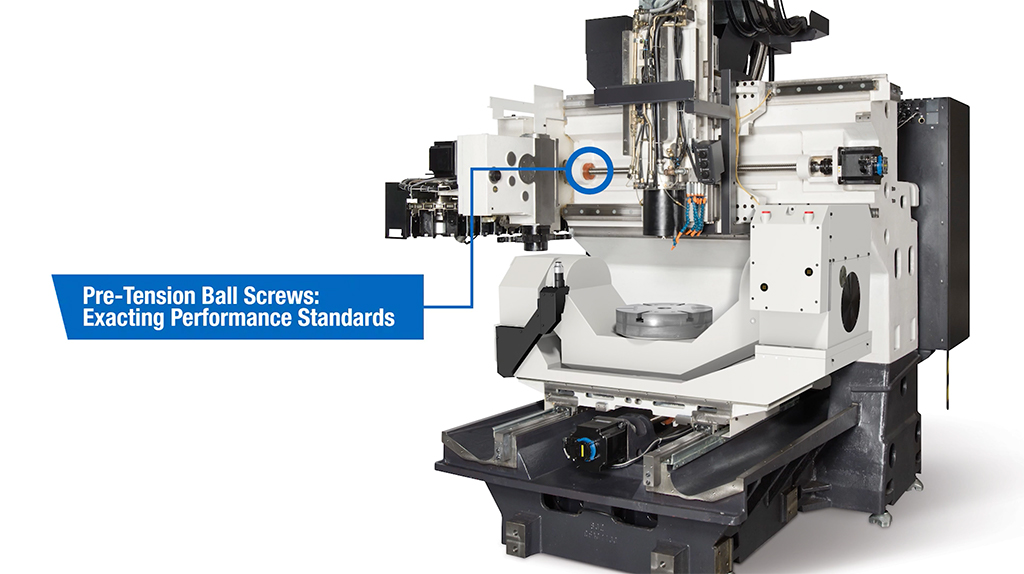 High-precision ball screws generate roller guide movement to all three axes. They are directly coupled to Okuma servomotors, which match the electrical and mechanical prerequisites to meet performance requirements with uncompromising precision.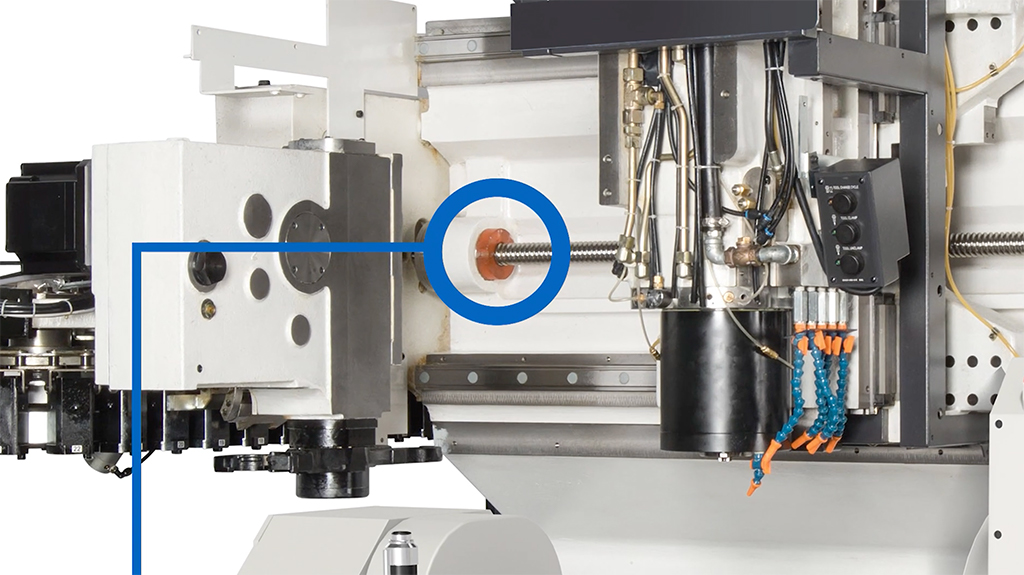 Massive Trunnion: Superior Accuracy and Machining Capabilities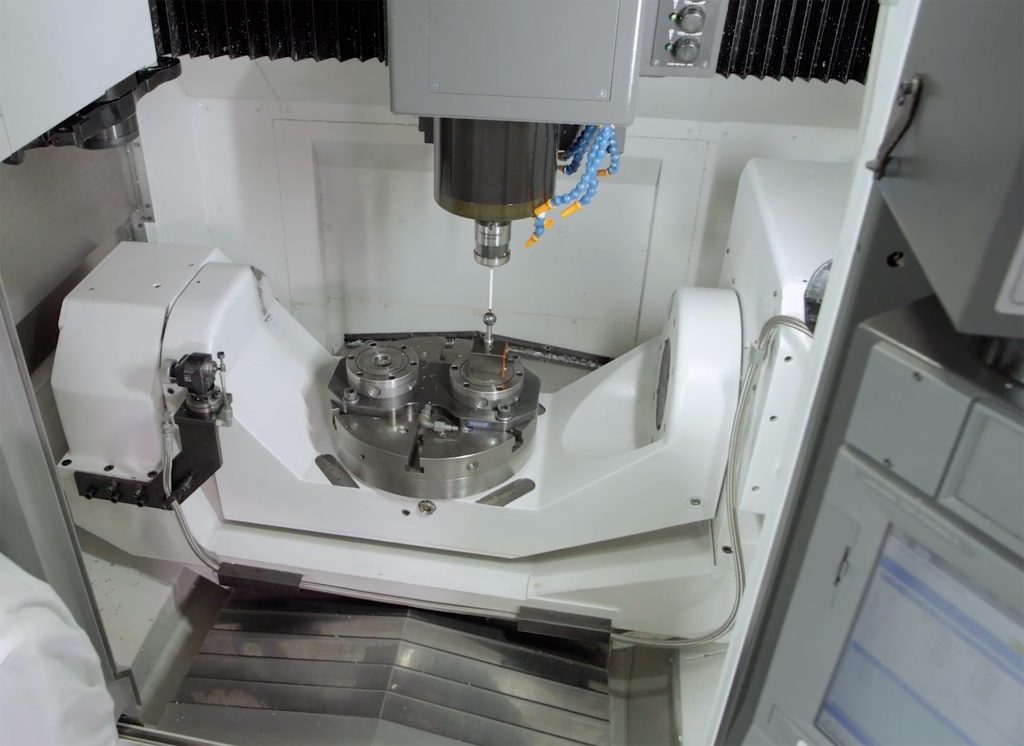 Utilizing a hypoid gear drive, the first-rate trunnion construction offers excellent positioning accuracy, rigidity, and table rotation speed in a more durable design. The only thing more impressive than the resulting accuracy is the speed with which it's delivered.
Auto Tuning System: Total Movement Accuracy
The auto tuning system measures geometric error using a touch probe and datum sphere, performing compensations using measurement results to fine-tune the movement precisely. The end result is a higher level of accuracy, scaled to perfection. In the past, this kind of tune-up required a visit from a service professional. Now you can easily tune-up the machine on your own!
Thermo-Friendly Concept: Temperature-Regulating Design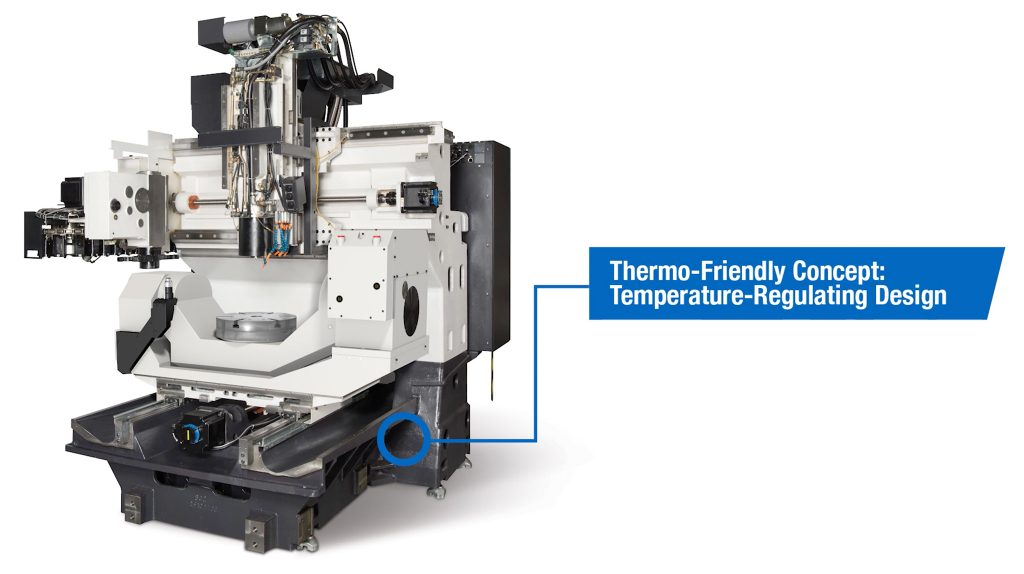 The machine's thermo-friendly structure allows it to maintain high dimensional accuracy when the room temperature changes. Also, with capability to stabilize thermal deformation due to process or interruption, warm-up time is automatically shortened, and the burden of dimensional correction during machine restart is reduced, too.
TAKE CONTROL WITH THE OSP CONTROL TECHNOLOGY
The standard model of GENOS M460V-5AX includes all the options needed for simultaneous 5-axis machining.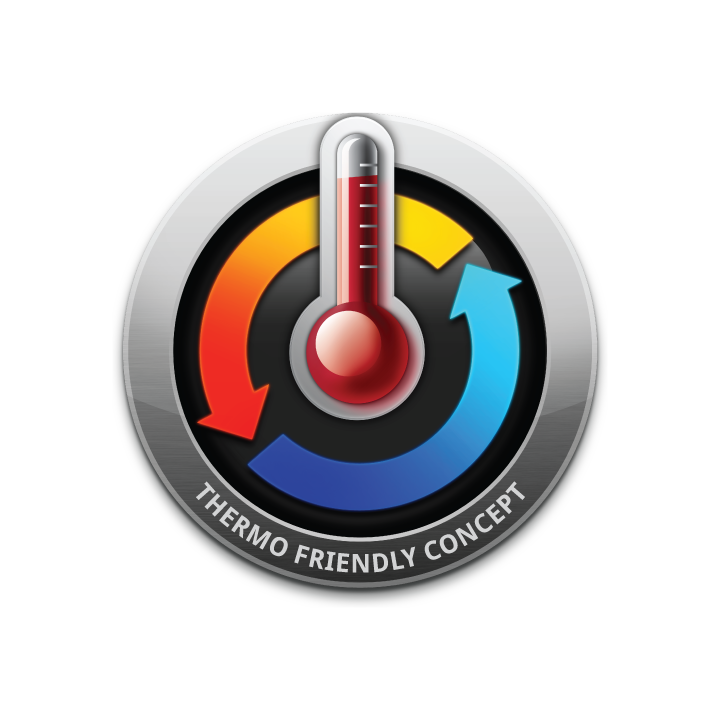 The evolution of our Intelligent Technology is also a bonus for operators. The following innovations can be managed through the OSP control:
• Thermo-Friendly Concept
• Collision Avoidance System*
• Machining Navi*
• 5-Axis Auto Tuning System
• SERVONAVI®
When combined with our suite of apps, as well as the energy-saving techniques of our ECO suite, the OSP control is yet another way Okuma provides unparalleled value to our customers.
Video example of machining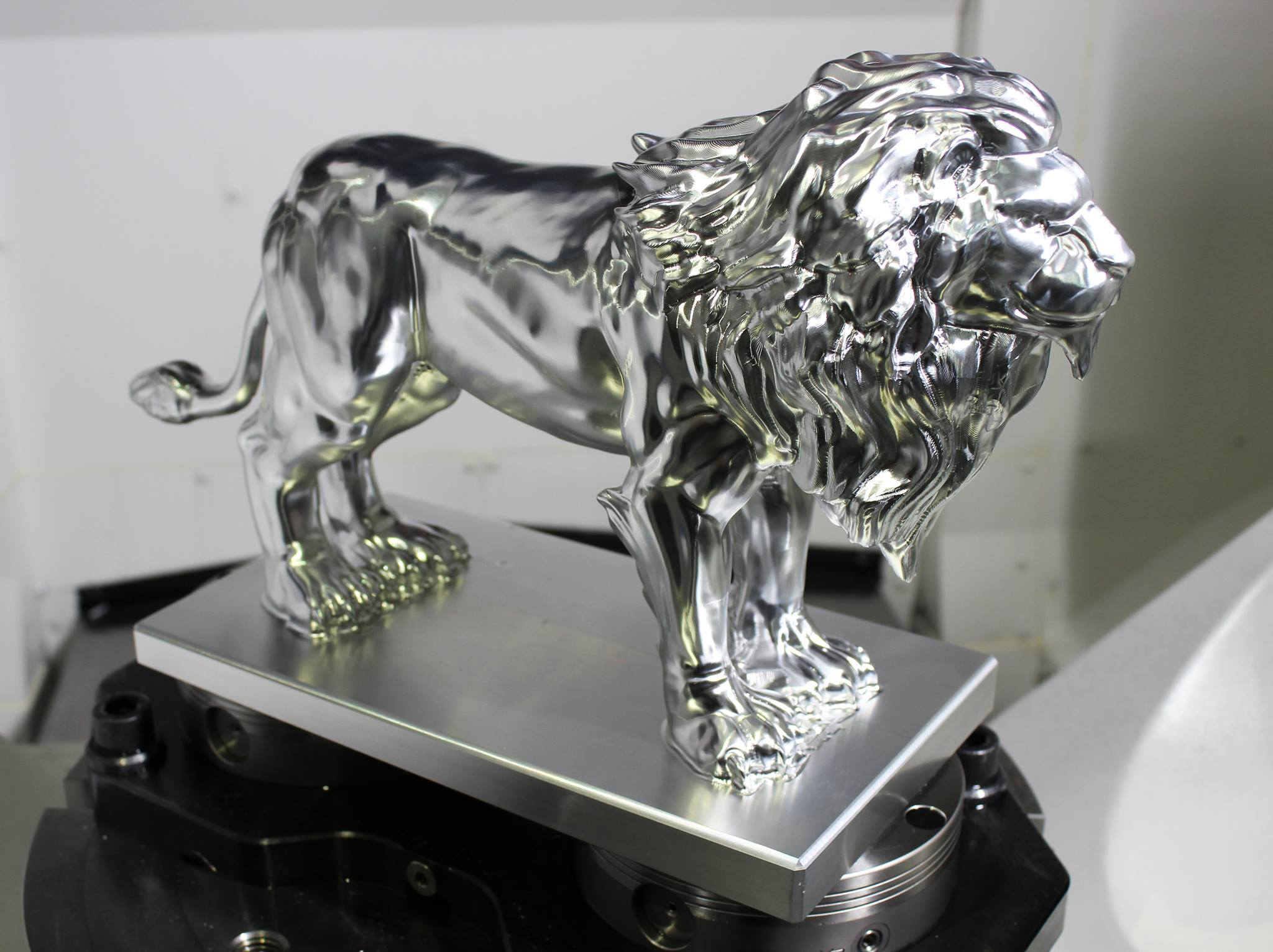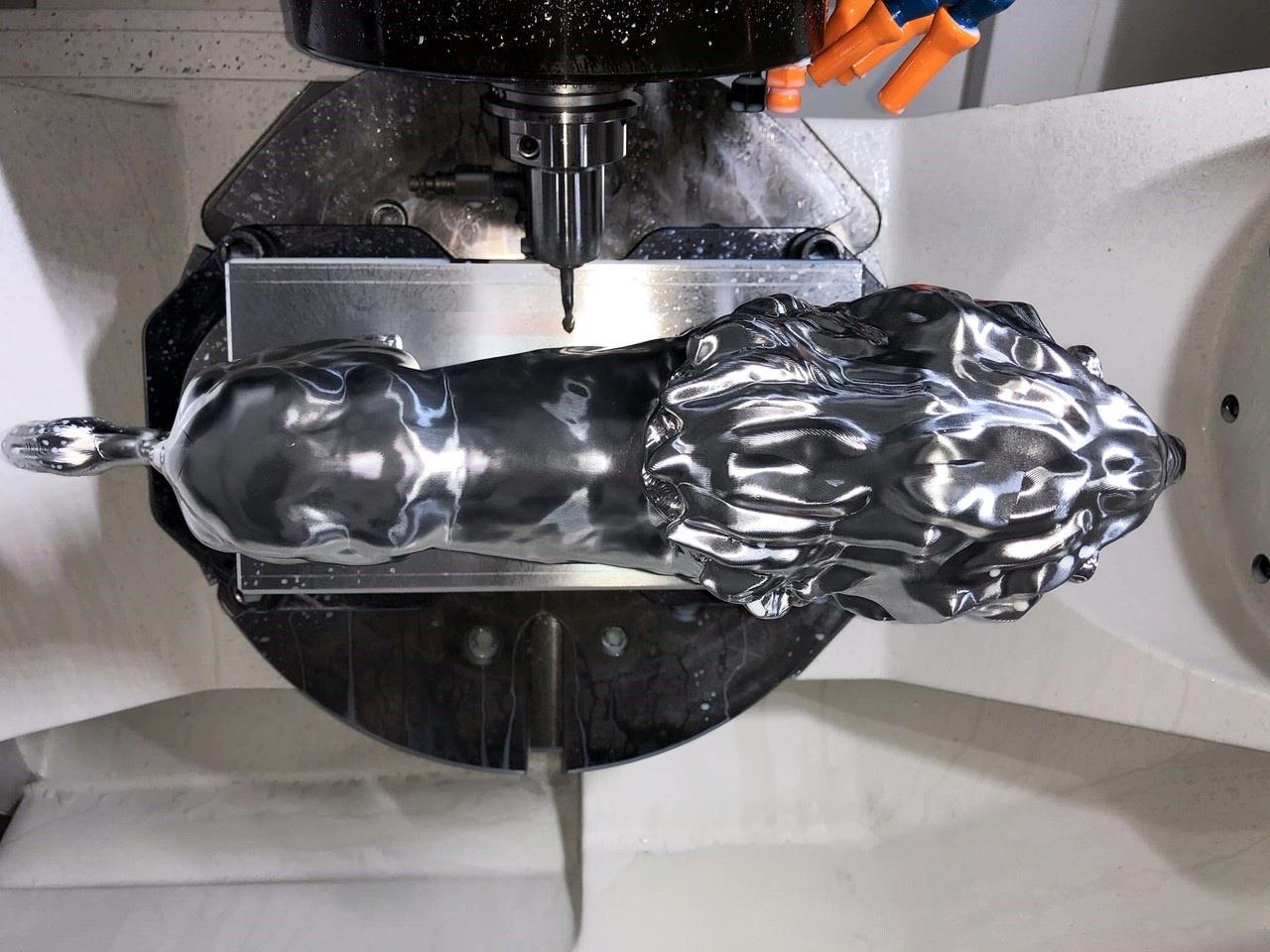 Technical Specifications
| | |
| --- | --- |
| Table size [mm] | Ø 400 |
| Spindle speed [min-1] | 15,000 |
| No. of tools | 48 |
| Motor [kW] | 22/18.5 |
| Axis travel [mm] | X: 762 / Y: 460 / Z: 460 |