Multitasking machining is gaining popularity within the manufacturing industry, and rightfully so, as these machines are full of potential, promise, and profitability factors beyond traditional machine categories.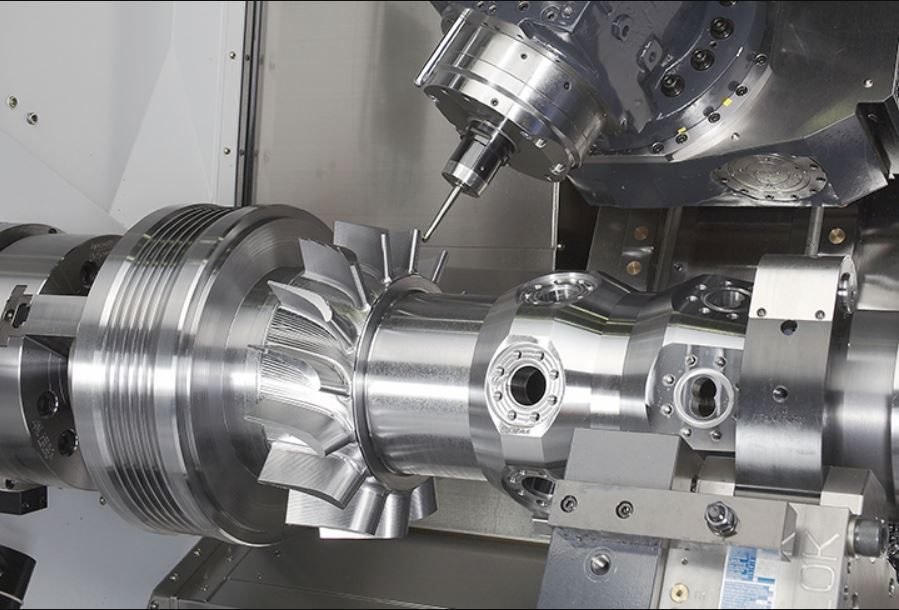 So, how do you determine if this type of machine tool is the appropriate next purchase for your machine shop? What benefits can you expect from the use of a multitasking machine tool? And who should you rely to answer your questions as they unfold? Let's investigate these questions and more.
WHAT IS A MULTITASKING MACHINE?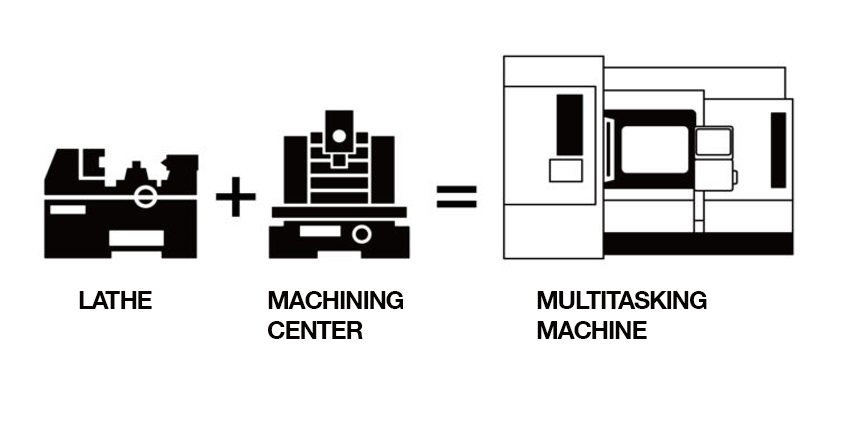 Multitasking machines combine the functionality of two or more traditional standalone machine tools to form one "super" machine. In their most common form, multitasking machines combine one or two lathes with a machining center. However, in recent years additional capabilities (grinding, gear cutting, even Laser Hybrid) have started to integrate as well. The beauty behind multitasking machines is that there are a variety of configurations available, so you can invest in what makes sense for your shop.
Multitasking machines have the following functions and capabilities:
Turning
Milling
Surfacing
Helical milling
5-axis
Mill-turning
Hobbing
Skiving
Turn-Cut
Broaching
Grinding
Laser Hybrid
Hobbing (TOP IMAGE), Skiving OD/ID spines (BOTTOM IMAGE)
WHEN SHOULD MY SHOP BEGIN TO CONSIDER A MULTITASKING MACHINE?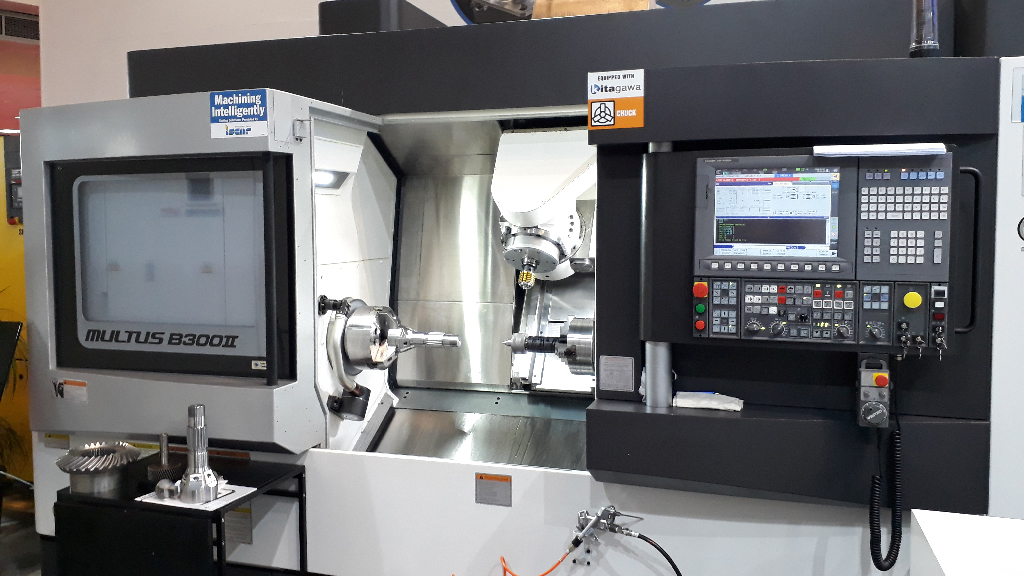 So, at what point should your shop begin to evaluate a multitasking machine as your next machine tool purchase? Here are a few criteria that would place you as a perfect candidate for this machine tool category:
Our shop is forward-thinking.
Many shops find over the years they have continued to comfortably add features and functions to their machine line-up and that multitasking is the next logical technological progression.
We need to add flexibility.
Are your customers' requirements constantly changing or do you find yourself needing to quickly adapt? Multitasking machining processes can include turning, milling, surfacing, drilling, tapping, hobbing, and more – which allows for extreme flexibility in creating a variety of parts.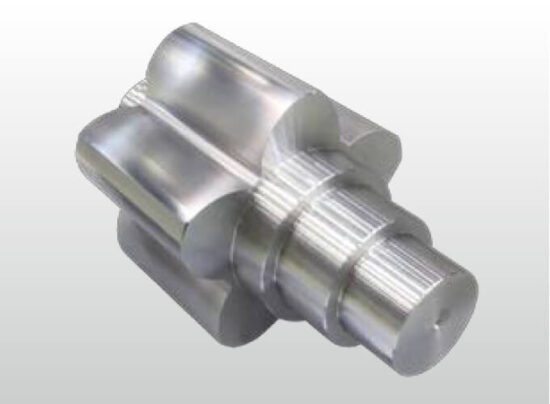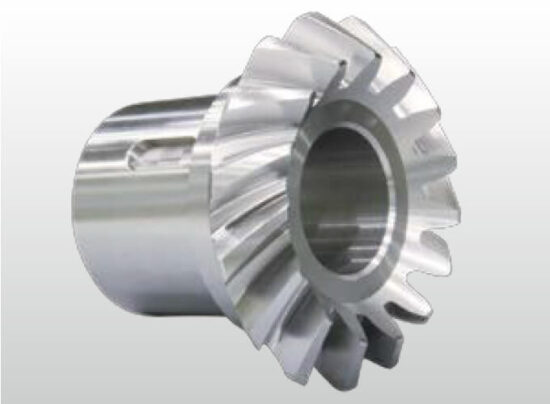 We must remain competitive.
The benefits of multitasking machines simply cannot be ignored. This method is an incredible way to simplify your machining process, improve accuracy, decrease overhead and labor expenses, and reduce errors – lowering your cost per part, while increasing margins and profitability.
We are looking to grow our customer base.
The opportunities multitasking machines offer range from simple production parts to complex, high-precision parts. This combined with a quicker turnaround time permits a shop to pursue new customers and opportunities outside of their norm.
Our shop is unable to find machine operators.
Numerous machines that require multiple setups simply require more manpower. Multitasking machining creates efficiencies that do not require increased headcount or allows you to refocus your employees on more profitable activities.
We want our next machine tool to be automation-friendly for unmanned operations.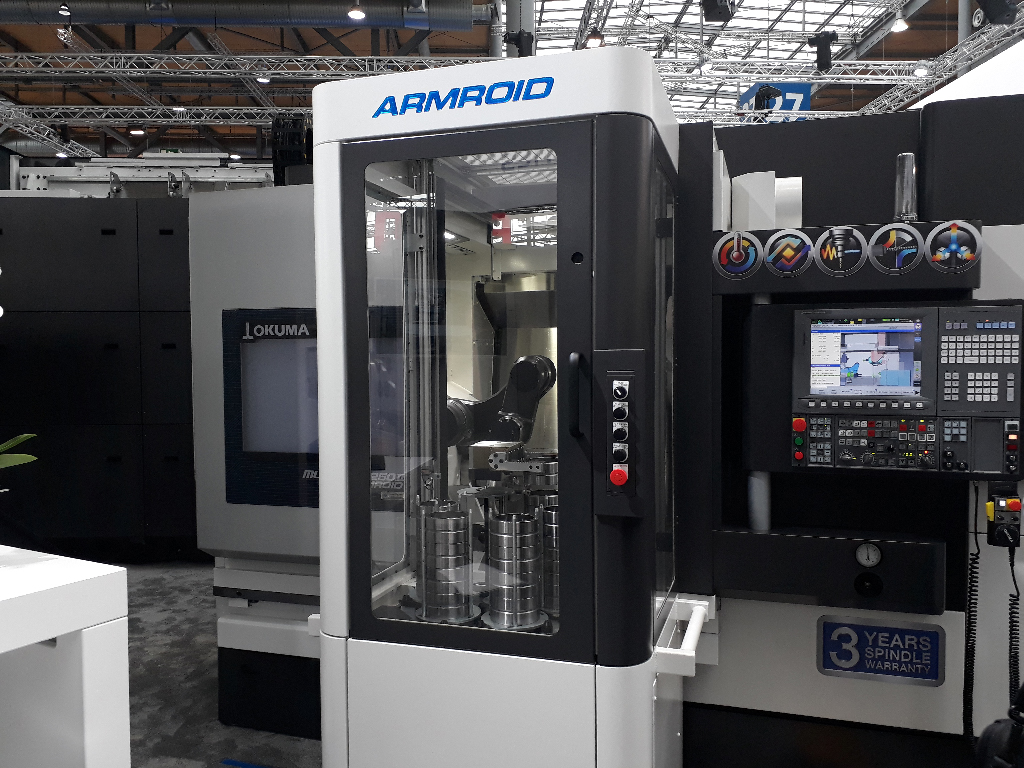 Multitasking machine tools can be complemented with automation to make them exponentially more productive. When paired with bar feeders, loading and unloading systems, or robotics, the potential for running unmanned or lights out becomes a reality.
THE MANY BENEFITS OF A MULTITASKING MACHINE TOOL
Once they were comfortable running the MULTUS, their shop went from three parts to nine parts a day.
In a recent case study, Scott Harms, President of MetalQuest, explained that his sole decision to purchase a highly versatile multitasking machine catapulted his company to be the manufacturing powerhouse they are today. Within the interview, Scott stated, "I knew going into it that I was going to be the only employee for some time, so I needed to make my time and capital count." Like most multitasking CNC machine tool owners, MetalQuest capitalized on the benefits of multitasking machining, including:
Reduction in setup time.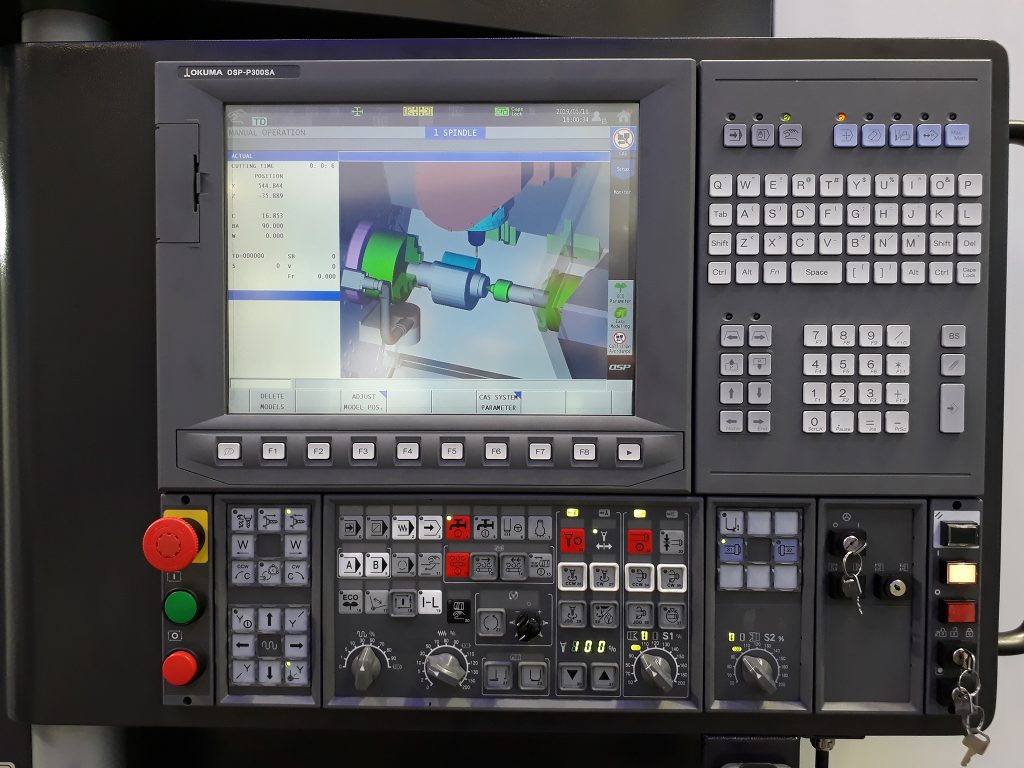 On a multitasking machine, parts are machined within a single cycle which means no need to perform multiple setups, change tooling, change fixtures, adapt programs, or move the physical part between several different processes.
Increased spindle utilization.
Because a multitasking machine eliminates the need to move the part between machine tools, this allows for more active cutting time.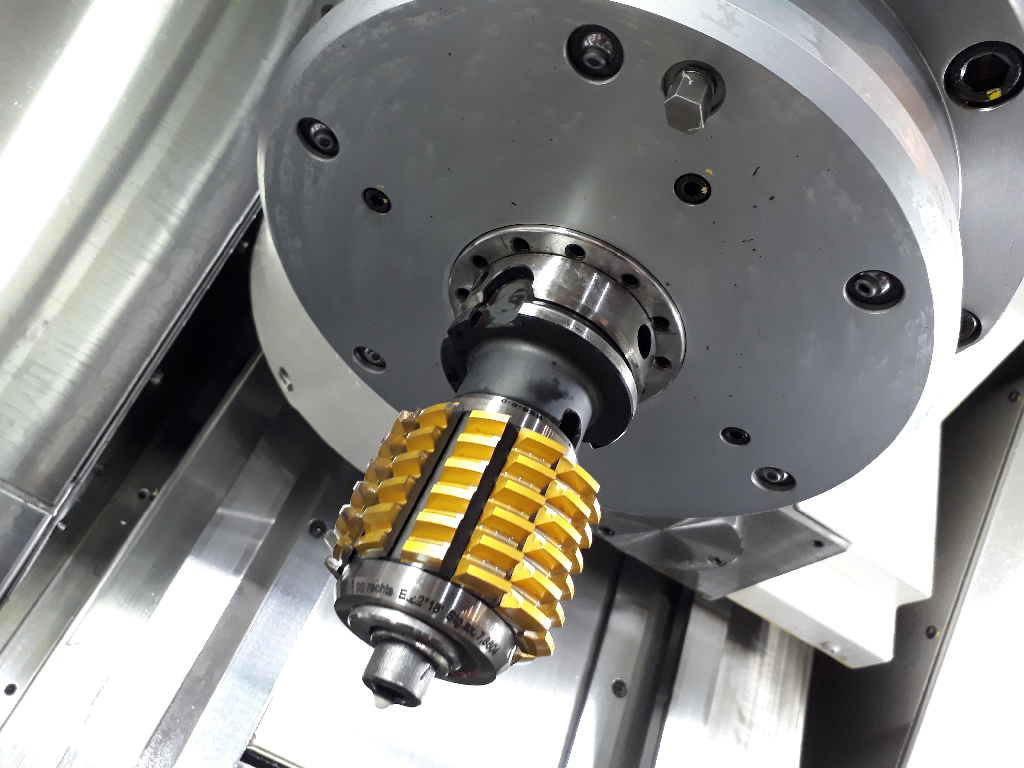 Improved accuracy and reduction of errors.
Realizing that the most consistent process is one that reduces the number of setups and production steps, multitasking machines vastly reduce the risk of human error and in turn reduce downtime in production.
Decreased total cost of ownership.
Reducing manufacturing to a single multitasking machine will require fewer fixtures, tooling, and even less labor hours due to fewer setups. Also, less money is spent on routine maintenance.
Realizing a gain in shop floor space.
By condensing multiple machining operations into a single machine, the need for multiple machine tools to produce a single part is no longer required – freeing up valuable shop floor real estate.
WHO CAN HELP MY SHOP MOVE FORWARD ON IMPLEMENTING A MULTITASKING MACHINE TOOL? THE IMPORTANCE OF OEM DISTRIBUTION.
At Okuma, we feel it's important to have a champion during the multitasking decision-making and purchasing process. While entry-level price points of machines (like the MULTUS B250 II – part of the Affordable Excellence product line) are very attractive, your shop should look to a local distributor to help you choose the machine tool best suited for your application and goals.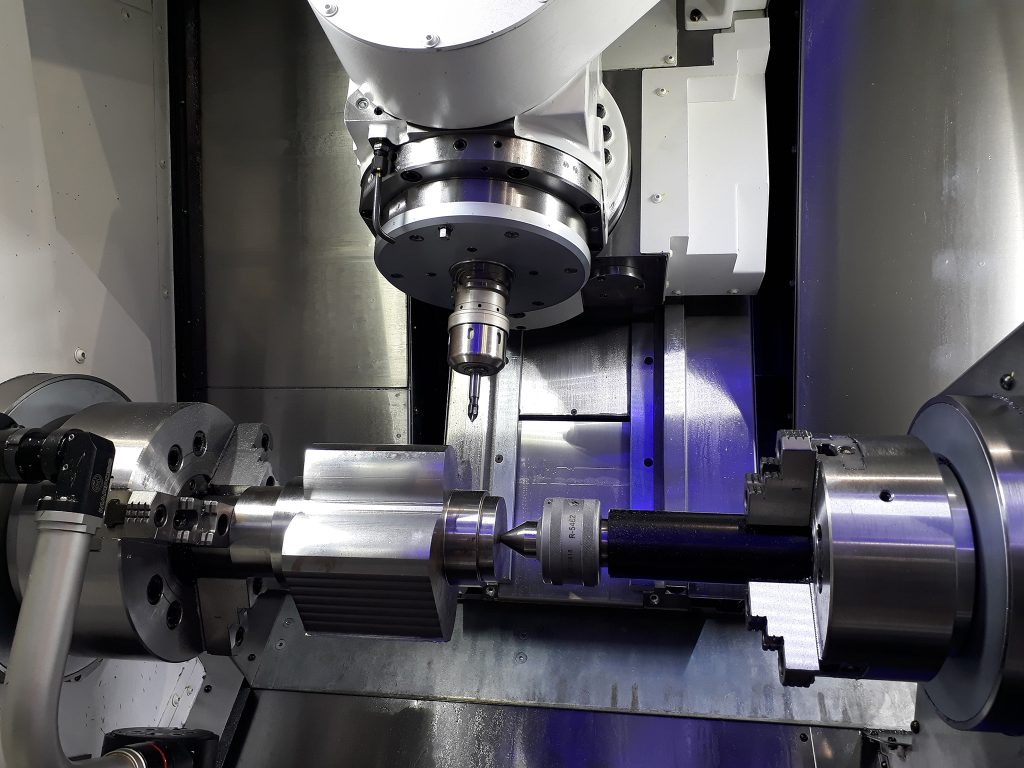 If you are having a hard time visualizing how multitasking advantages relate to your exact application, our distribution partners are more than willing to conduct a time study or even a live demo to show the potential this machine category can deliver. The time spent doing a deeper dive with trusted experts will help you better understand how a multitasking machine tool can prove beneficial and, more importantly, profitable for your shop.
Additionally, if you are looking to adopt a multitasking machine for the first time, we want to ensure your success. Whether you purchase one machine or multiple, your local Okuma distributor will conduct customized on-site training to ensure you and your team are comfortable in programming, operating, and maintaining your new purchase.
OKUMA Multitasking Machines:

Leave FEEDBACK