Collision Avoidance System – Collision Prevention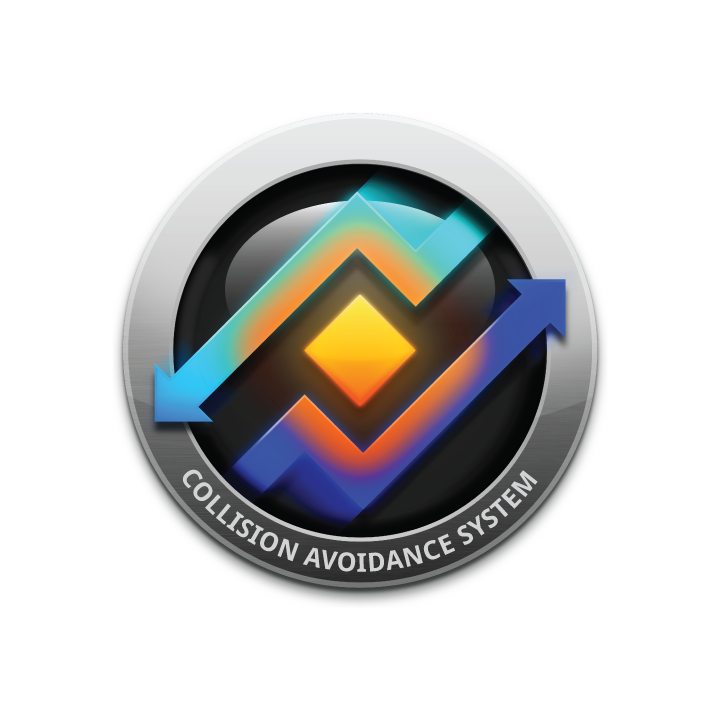 Our Collision Avoidance System (CAS) integrates 3D modelling of our machines, blanks and tooling with the power of the OSP control to create a virtual machine. Running the real-time virtual application seconds ahead of the actual cutting, problems can be detected early and the machine is stopped before a costly collision.
The world's first anti-collision system on CNC machine tools
(Collision Avoidance System – CAS) is a CNC machine anti-collision system from Okuma that integrates 3D modeling of machines, semi-finished products and tools with the power of OSP control to create a virtual machine. Running the virtual application in real time, a few seconds ahead of the actual processing, can detect possible collisions and the machine is stopped before a physical collision.
By entering the size of the tools and the semi-finished product, the software analyzes the position of the machine components and alerts the possibility of collisions. In case of detection, the machine stops and the display will show the area of impact in red for the operator to intervene with the necessary corrections.
Allowing operators to focus on making parts
NC controller (OSP) with 3D model data of machine components––workpiece, tool, chuck, fixture, headstock, turret, tailstock––performs real time simulation just ahead of actual machine movements. It checks for interference or collisions, and stops the machine movement immediately before collision. Machinists (novice or pro) will benefit from reduced setup and trial cycle times, and the confidence to focus on making parts.
OSP-P300 / A machine control and WindowsTM collaboration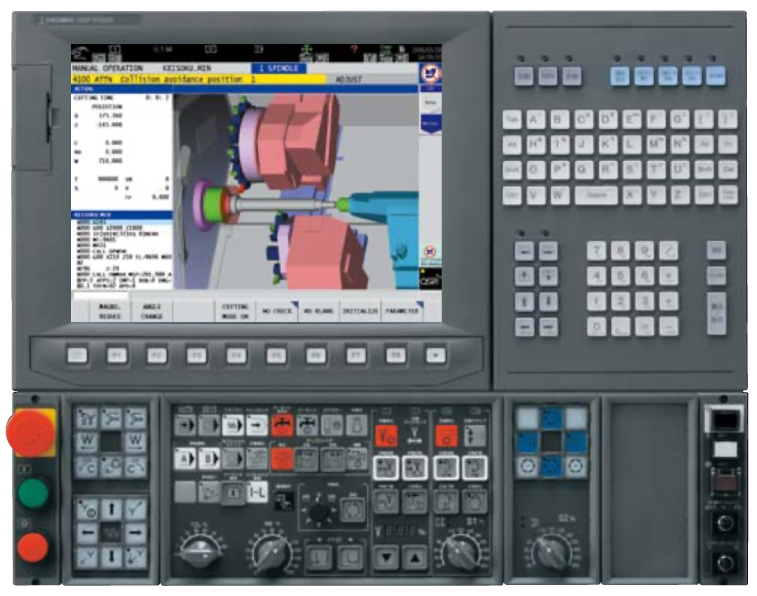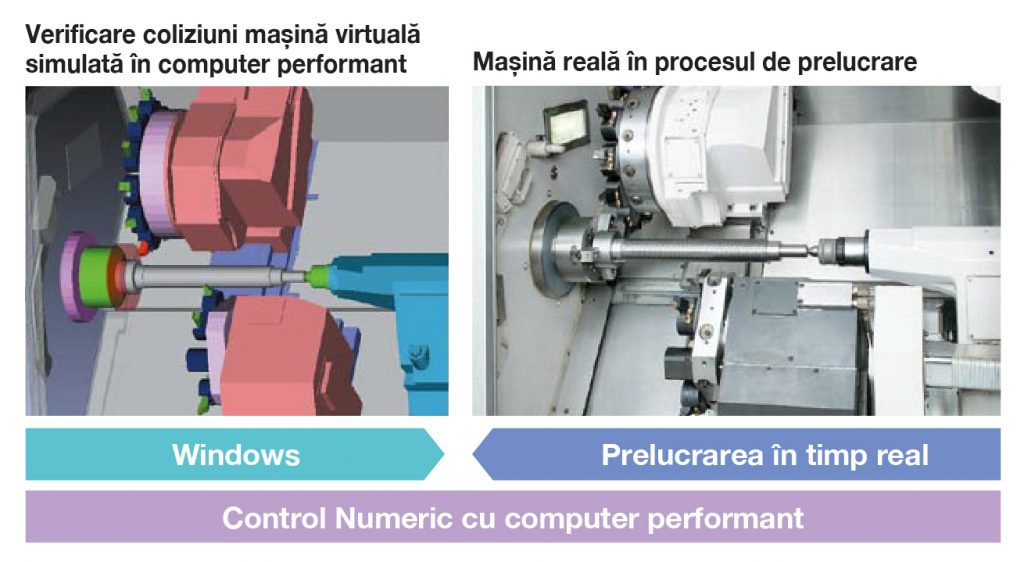 Collision prevention during automatic operation
NC program is read in advance and axial travel commands are checked for interference with consideration of zero point and tool compensation values set in NC. Axial travel movement is stopped temporarily before collision occurs.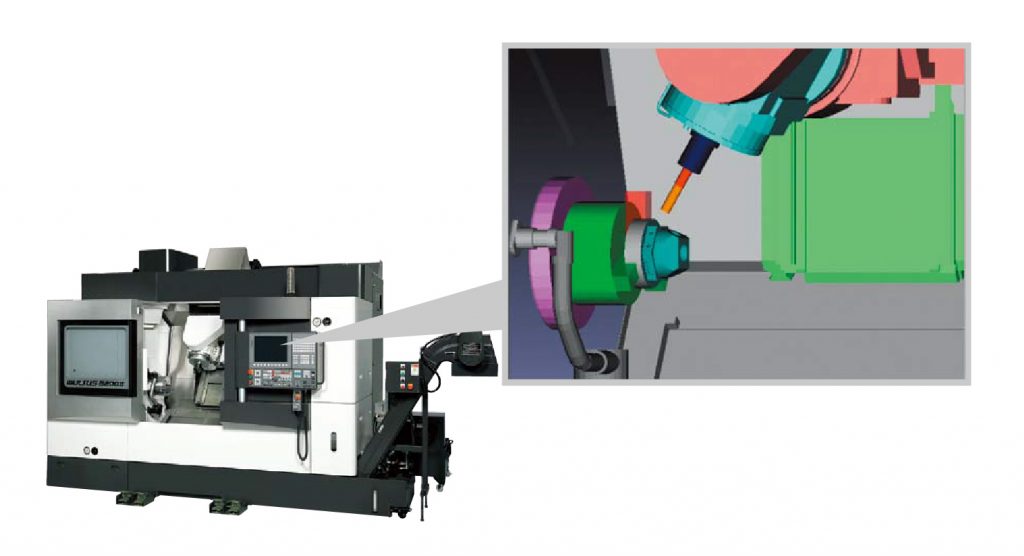 Collision avoidance in manual operation
Especially useful for machine operators setting up a job, collision avoidance in manual mode provides collision-free confidence and faster machining preparations.
This operator assurance comes from Hairbreadth Stop—another innovation based on Okuma's expertise in integrating powerful simulated processing with its high-tech machine control.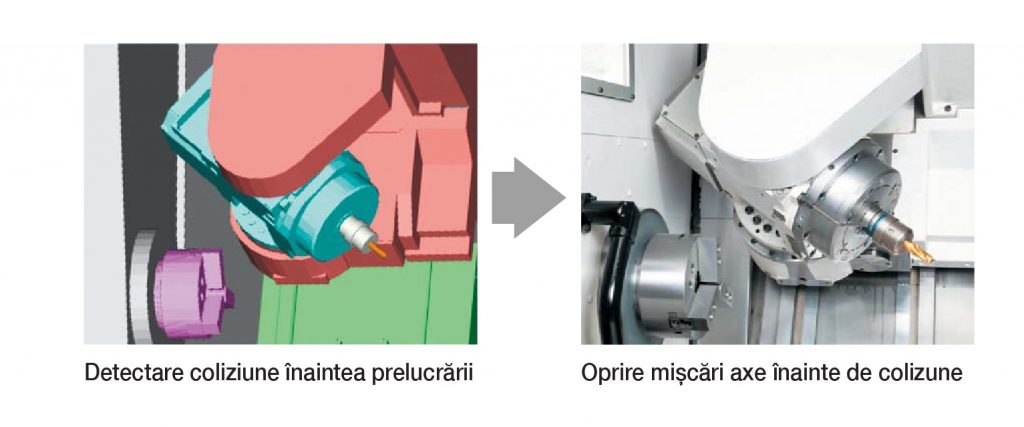 Realistic simulation of workpiece cutting
Workpiece shape during machining is displayed accurately and interference checks are performed.

Improved spindle utilization
Fewer interference checks performed by operators when spindle and turret approach. First part cycle time is shortened.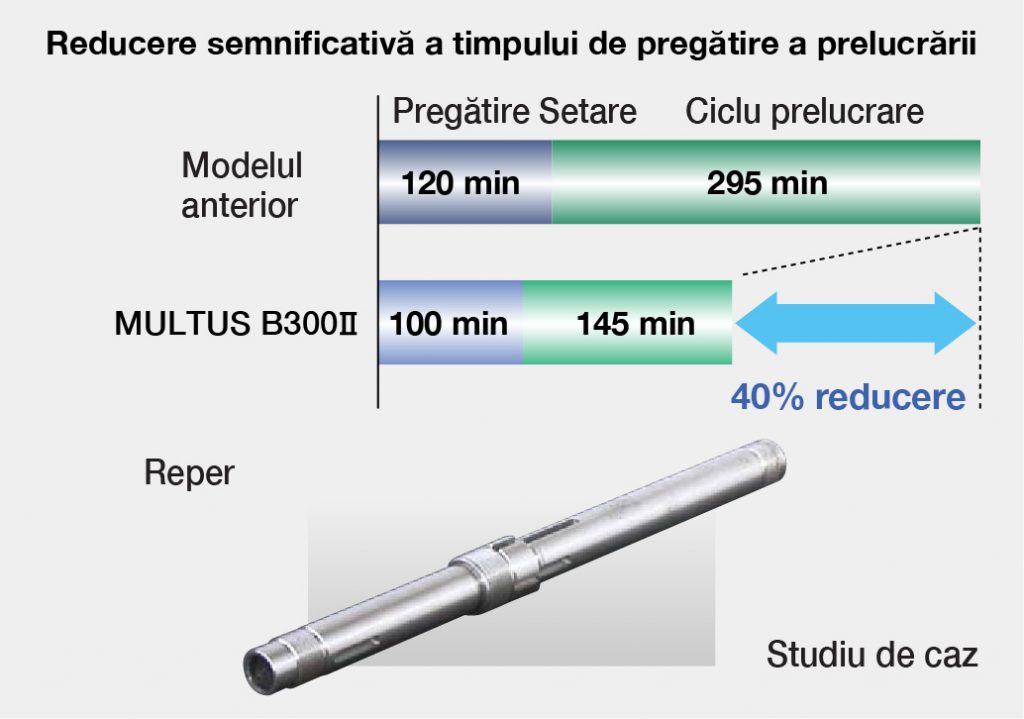 Interference check time 1/7
Interference checks/scraping can be done in high-speed drawing mode (dry run with machine lock), shortening the time for advance interfence checks (for lathes).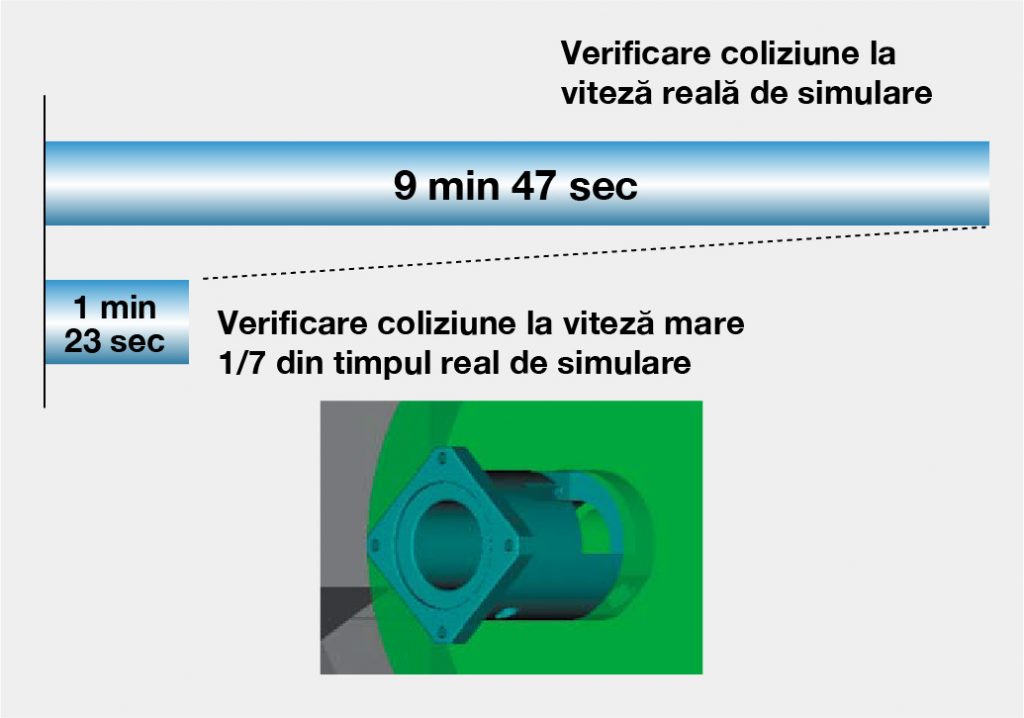 Easy modeling
Simple input of parameters. By selecting the CNC machine, the 3D model of the machine is registered, followed by the automatic setting of the starting parameters (STEP 1).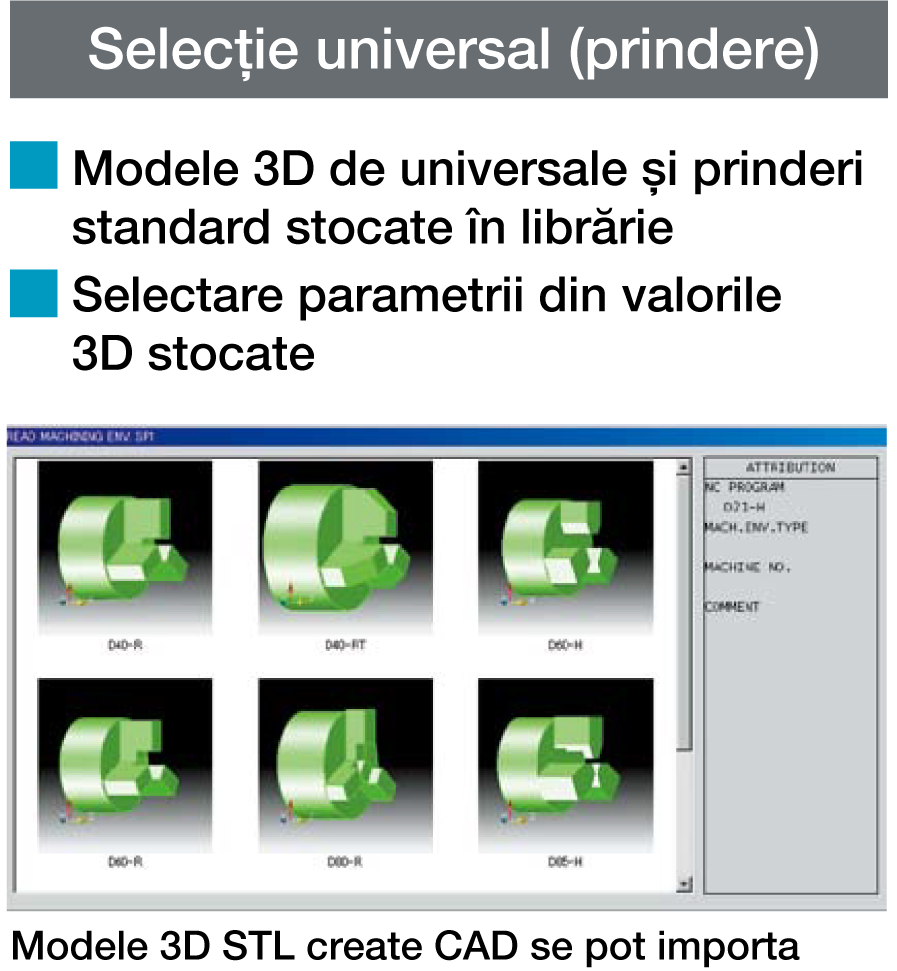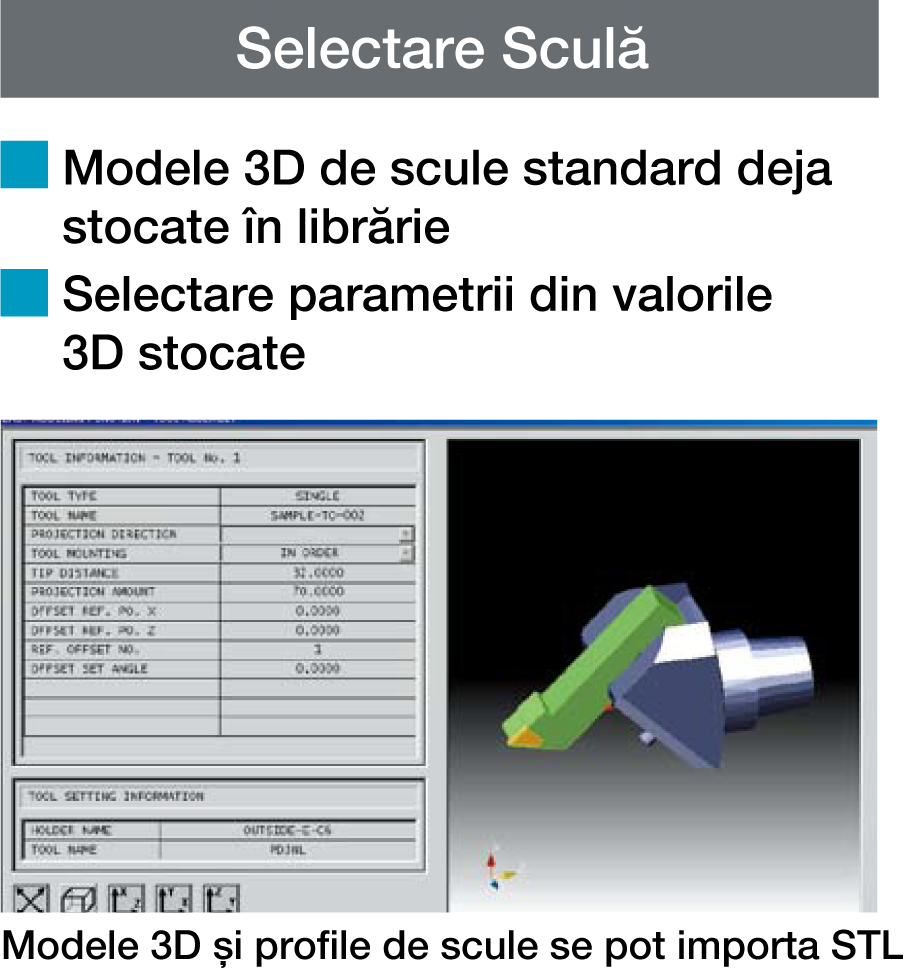 CAS supports NC rotary tables and spindlehead attachments
CAS is also effective with commercially available NC rotary tables. Interference checks will also cover the fixtures and workpieces mounted to the rotary table, based on data from these models.
Application with spindlehead attachments on double-column machining centers is also possible. This is especially valuable when it is difficult to see some views during multi-sided cutting.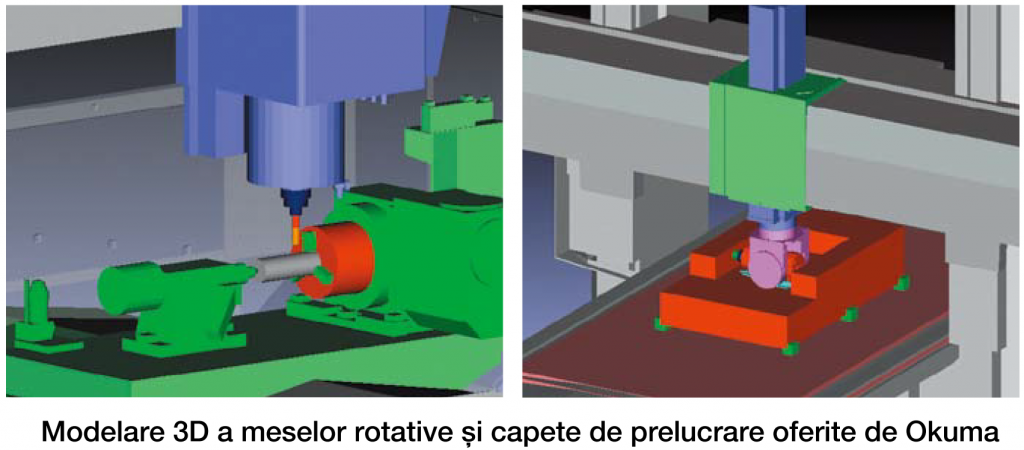 Return-Restart support for blank model cutting
Cutting can be stopped midway, when necessary, and the partially processed model of the blank will reappear during Return-Restart.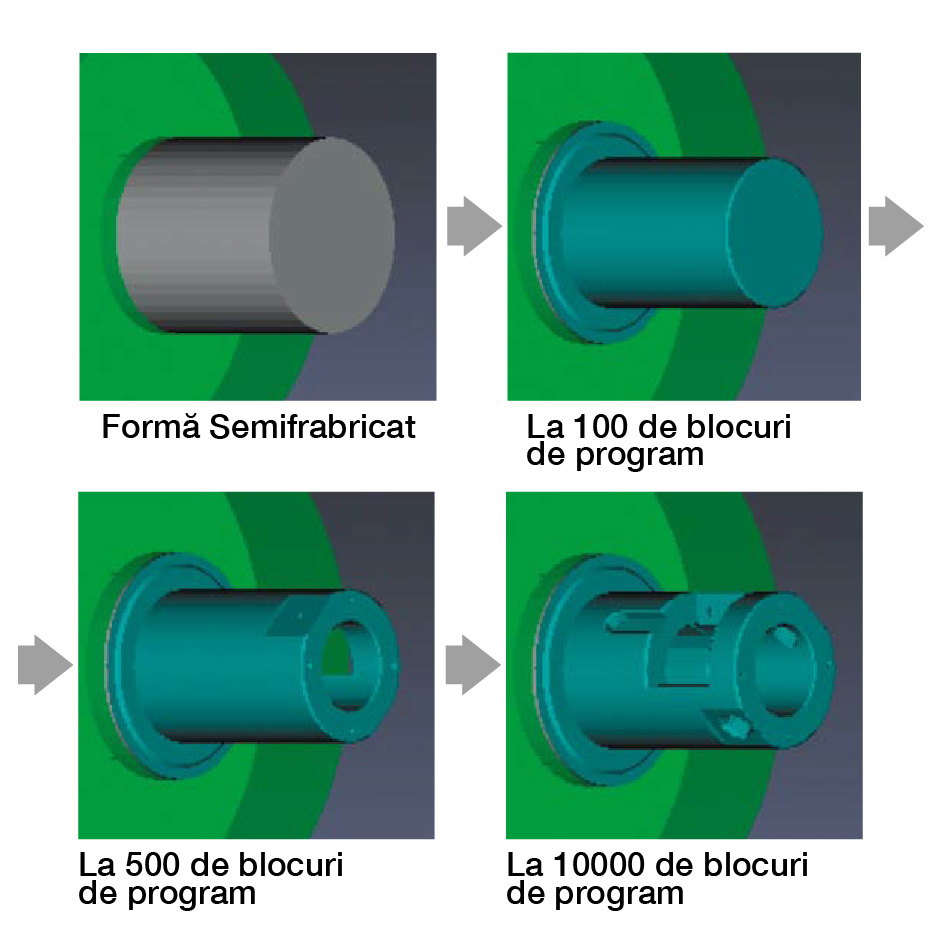 Linkage with 3D virtual monitor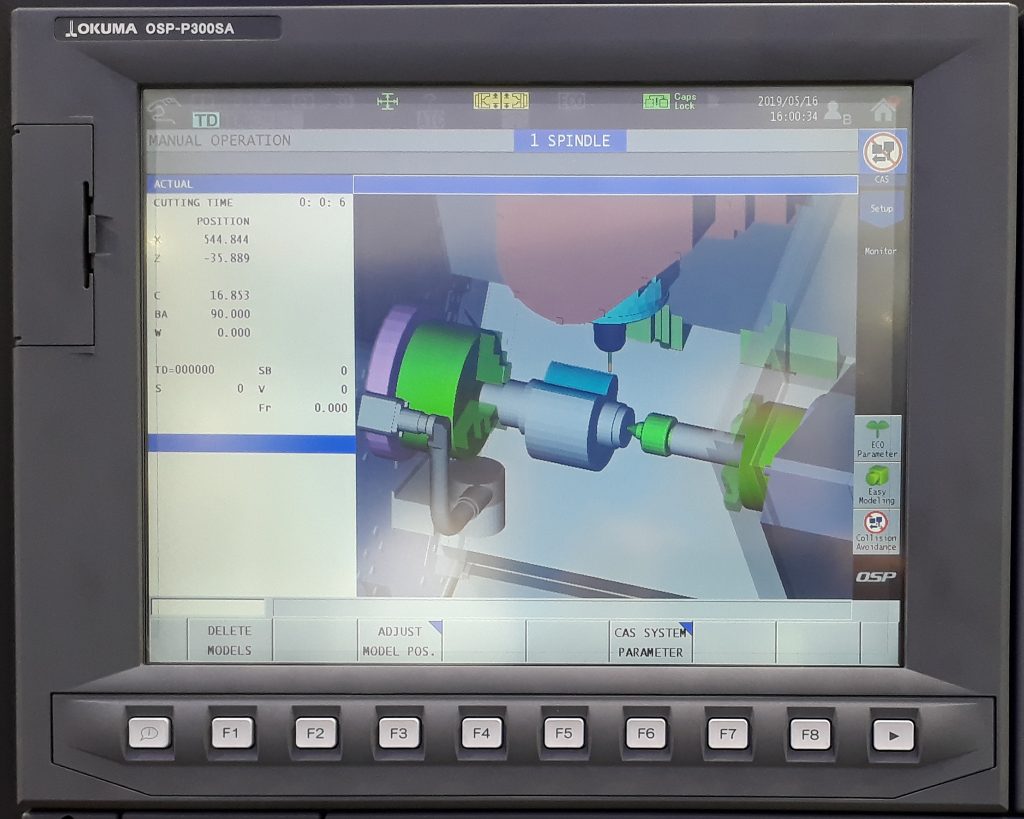 Program verification of 1/10 achieved
Utilization can be further increased by linking the Collision Avoidance System with a 3D virtual monitor (PC software sold separately) that can perform a machine interference check online. Work time can be shortened on the machine by importing into the machine's Collision Avoidance System model data that were prepared on the 3D virtual monitor.
Excellent for advance machining verification
A check of interference from tool travel, lathe turret movement, and machining center attachment movement, which previously could only be checked on the machine, can be done in advance with high accuracy.
Accurate cycle time calculation with consideration of machine specifications
Accurate cycle times can be calculated with consideration of machine specifications since machine tool NC functions are carried out in simulations.
Application example
Collision avoidance during turret rotation, movement
Unforeseen collisions of long tools with turret rotation and travel can be avoided. The operator can concentrate on the machining without worry of collisions.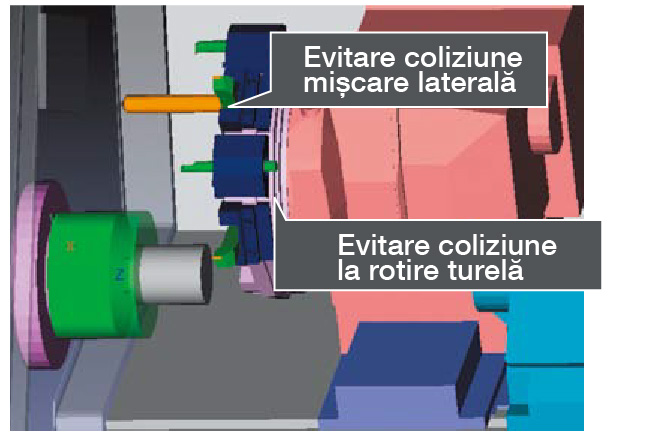 Interference checks during soft jaw forming
Since jaws are fixture models, the Collision Avoidance System cannot normally be used during soft jaw forming. However, by defining the jaw shape as a blank material model, CAS can be used.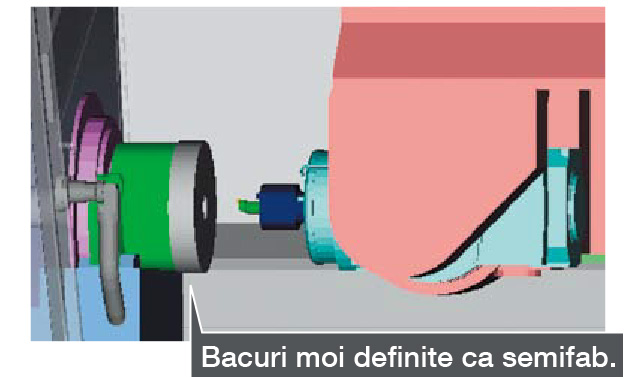 Huge reduction in modeling time
Finalized model settings can be saved as file data, revised, and used for similar blank/tooling applications —thus greatly reducing model creation times.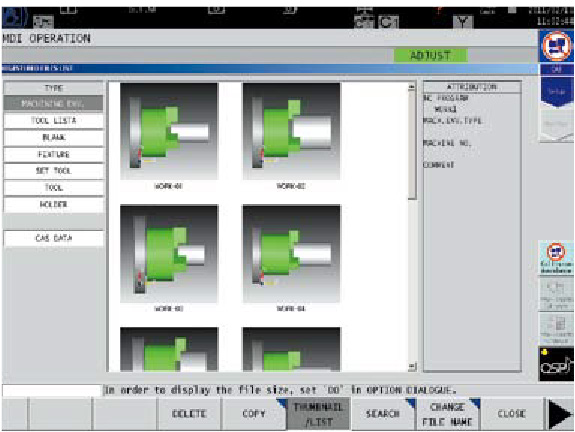 It can be added to a large range of Okuma machines; centers, lathes and multifunctional machines. It is compatible with a large range of Okuma CNC controls

Leave FEEDBACK