Case Studies
Presentation of some examples of Okuma solutions in Japan offered to solve customer problems, which we believe are also suitable in Romania.
1. Reducing setup times and costs of irregularly shaped parts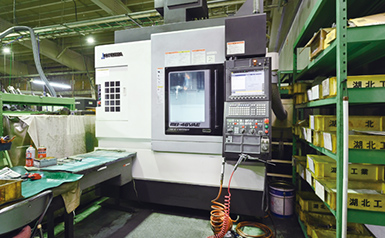 Issues
We wanted to machine irregularly shaped cast parts quickly
and easily with 4-axis machining using a familiar CAD/CAM system
The most complicated process in machining irregularly shaped castings is the workpiece clamp. Every time the workpiece setup is changed to perform various operations, the machining accuracy is affected. We wanted to install a machine that would manage process-intensive operations and reduce setup times in high-mix production applications. If possible, we wanted to create part programs with a familiar CAD/CAM software and make use of the know-how we already have.
Implementation
Installing the MB-V with an emphasis on ADMAC-Parts compatibility and advice from Okuma's Digital Solution Section were successful in developing new methods.
We have been using the MB-45VA (MB-46V previous generation VMC) for more than 20 years, and we highly evaluate the unchanging rigidity and machining accuracy. We chose the MB-46VAE to expand our equipment capacity based on not just the price of the machine, but also with their careful explanations of the effectiveness the added value would produce. In addition, the voice from the shop floor saying that "our familiarity with ADMAC-Parts is important" was also a major factor in machine selection.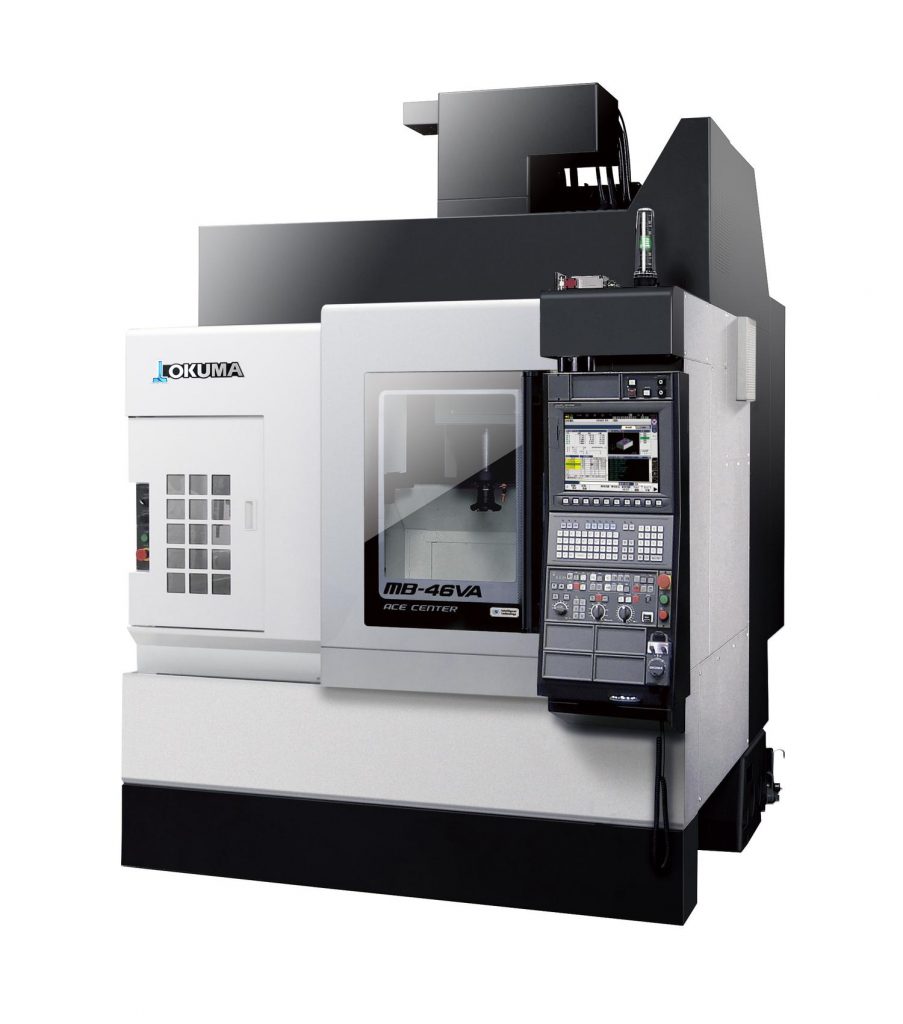 Even after installation, advice from Okuma's Digital Solution Section helped us develop new applications that achieve maximum machining accuracy and productivity improvement with minimum capital investment. This became an extremely valuable machine installation for our company.
Effectiveness
Programming time: 1/2 or less
By changing the approach of CAD/CAM arrangements for horizontal machining centers and applying them for vertical machining centers, the programming time instantly reduced to less than half. This was the decisive factor that made our development of a new application possible.
Productivity improved by about 20%
The MB-46VAE has achieved high-accuracy and process-intensive machining, and the application of ADMAC-Parts for a horizontal machining center has also contributed to improving productivity by about 20%.
2. Improving operating rates with multi-machines in high-mix low-volume production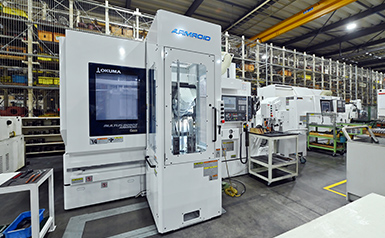 Issues
How to increase the operating rate of multi-machine operations in high-mix, low-volume production
The Processing Center of Seibu is responsible for machining more than 1,500 types of parts required by their three business divisions: Delivery Equipment, Industrial Machine, and Precision Machine. In mass production, we do actively promote automation and laborsaving, but it is difficult to raise the operating rate of multi-machines in high-mix low-volume production.
Implementation
Easy operation, peace of mind that comes from collision avoidance, space saving, and so on, in one machine that integrates the functions required by our Processing Center
When I first saw ARMROID, I repeatedly made sure that, "Even if the workpiece is changed, the operator just decides the start and end points, and we really don't have to worry about an in-machine collision." This is because productivity will not increase unless the operator in charge of a multi- machine setup who also uses other machines, can easily use the ARMROID without depending on a full-time robot specialist. We carefully simulated operations in our shop and then decided to finalize the order.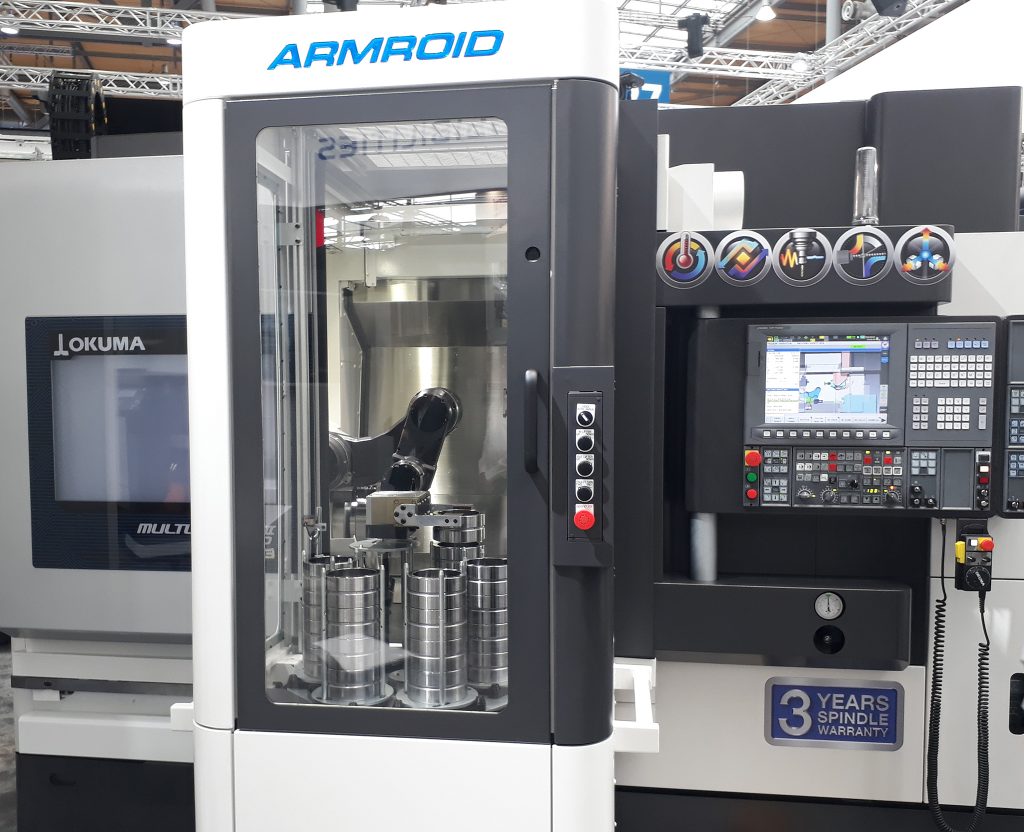 Effectiveness
Operating rate: 55% improvement (as of April 2021)
Originally, with a three-machine setup, and the operating rate of each machine was about 30%.
By replacing a turret lathe with the MULTUS B250Ⅱ ARMROID, the operating rate has improved to 85%, and the operating rate of the two other NC lathes has also improved to 50% due to synergistic effects. These better-than-expected results are due to process-intensive operations and shorter part load/unload times.
3. Laborsavings and improved machine operating rates even in high-mix build-to-order production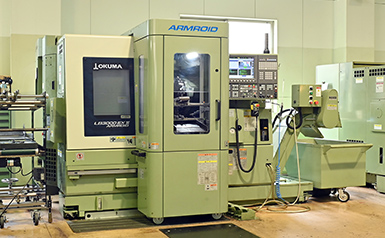 Issues
With fluctuating one-piece to hundreds of pieces in high-mix, build-to-order production, we wanted to save labor and increase machine operation…
We recognized that laborsaving and automation are essential to increase productivity, but a good automation system could not be found because instead of mass production, we receive orders for a wide variety of products. Teaching is complicated for industrial robots and dealing with the manufacturer in case of trouble was also a concern.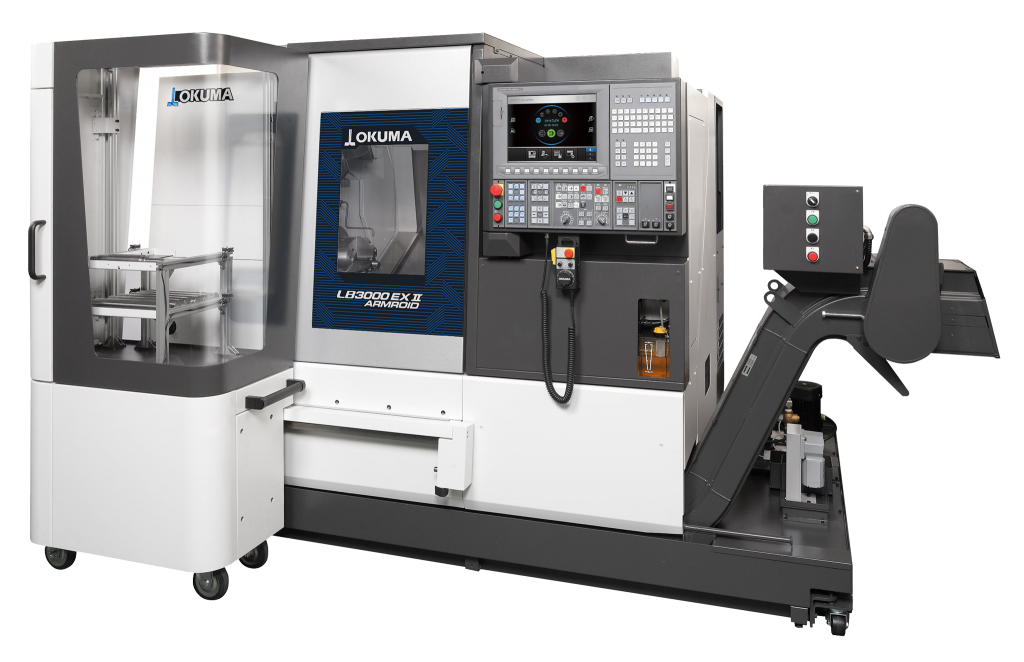 Implementation
More than anything, it is compact and easy to teach.
I was convinced that this would increase our machine operating rates and improve productivity.
The first thing that caught my eye was the extremely compact size of the robot arm built into the machine. I was also surprised that the machine and robot operation panels were combined into one, which made it easy to use and teach. I am convinced that if we can take a step toward automation and save labor, we can make great strides in work style reform.
Effectiveness
Operating rate: 20%~40% improvement
Unmanned operation is possible day and night, and the time required for manual part load/unload by operators is reduced, which improves the operating rate of a single machine by 20 to 40% compared to a similar machine without ARMROID.

Leave FEEDBACK