Un centru de prelucrare orizontal care oferă o capacitate de productivitate remarcabilă, de la o capacitate de prelucrare copleșitoare și o fiabilitate incredibilă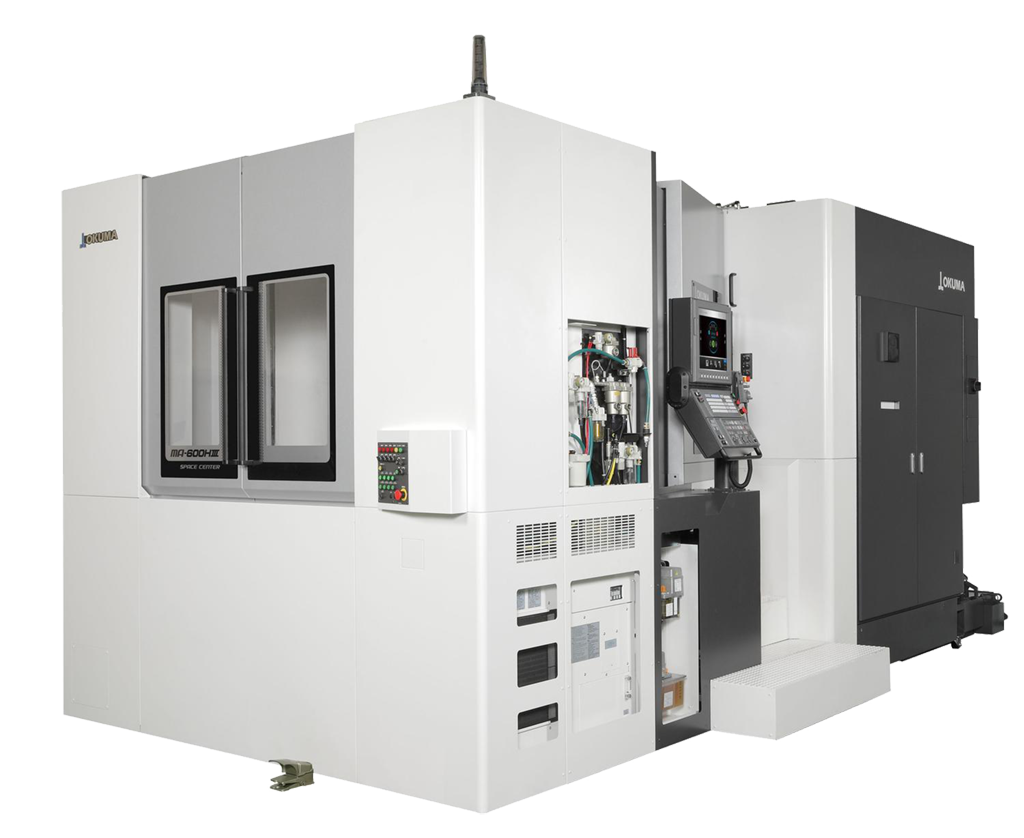 We are excited to announce the launch of a next-generation machining center to join the company's horizontal machining center lineup. This new machine – the Okuma MA-600HIII – brings next-level machining capabilities to the MA-600H family by offering several new features.
Noul centru de prelucrare de ultimă generație care se alăture gamei de centre de prelucrare orizontale OKUMA. Acest centru orizontal de prelucrare OKUMA MA-600HIII – oferă capacități de prelucrare la un alt nivel oferind câteva funcții noi.
Caracteristici de bază MA-600HIII:
Creștere suplimentară a capacității de prelucrare cu un nou arbore principaș puternic: 10.000 min-1 (opțional)
Productivitate mai mare cu un spațiu de lucru mai mare într-o amprentă la sol compactă
Stabilitate dimensională remarcabilă chiar și în prelucrarea grea a pieselor mari
Productivitate îmbunătățită prin scurtarea timpilor de non-așchiere
Evacuare de șpan imbunătățită care crește timpul de funcționare
"Rezervor fără depunere" îmbunătățește prelucrările stabile (opțiune recomandată)
Sisteme de automatizare pentru a îmbunătăți productivitatea
// Part 2 begin
Further increase in machining capacity with a powerful new spindle: 10,000 min-1
Handling a wide range of applications from heavy-duty to high-feed machining
10,000 min-1 No. 50 (option) Spindle machining capacity.
Spindle structure designed for powerful machining.
Roller bearings for the front make the spindle extremely rigid. That enables full-potential tooling applications and solid support for powerful cutting.
Applied spindles
● Powerful new spindle: 10,000 min-1
● Standard spindle: 6,000 min-1
● High-torque spindle: 6,000 min-1
Long service life provided by all spindles equipped with oil-air lubrication systems.
Supporting a wider range of applications with a new spindle lineup.
Delivering high machining capacity across a wide range of low to high speeds. Effectively handles a wide range of workpieces from heavy-duty cutting of steel to aluminum machining.
The MA-600HIII's new 10K RPM standard spindle effectively handles a wide range of applications, from heavy-duty to high-feed machining. The enhanced spindle is now equipped with a new thru-spindle coolant suction feature, which removes residual coolant inside the tool and spindle.
Noul arbore principal tandard de 10.000 rpm al MA-600HIII se ocupă eficient de o gamă largă de aplicații, de la prelucrare grea până la prelucrare cu avans mare. Arborele îmbunătățit este acum echipat cu o nouă funcție de aspirare a lichidului de răcire prin arbore, care elimină lichidul de răcire rezidual din interiorul sculei și al arborelui.
Higher floor space productivity with larger work envelope
Optimal travels for the large parts applications
The X-axis travel is longer and the maximum loadable workpiece size has also increased to handle a wider range of applications.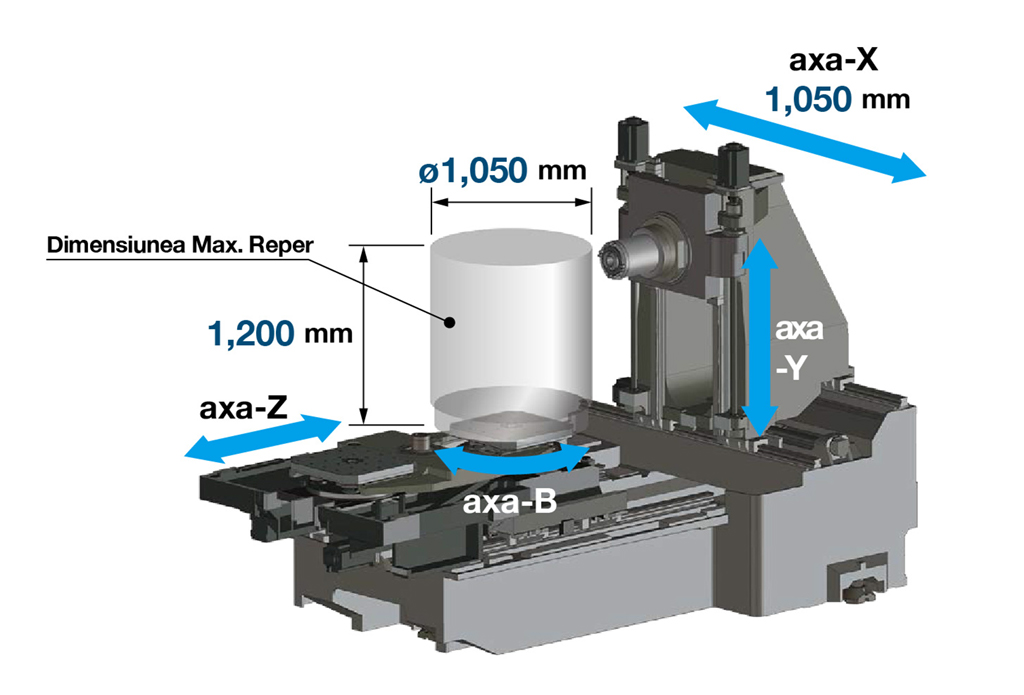 Machine structurally designed for ease of use
Good accessibility to the spindle and workpiece
● 800 mm from the operation panel to the spindle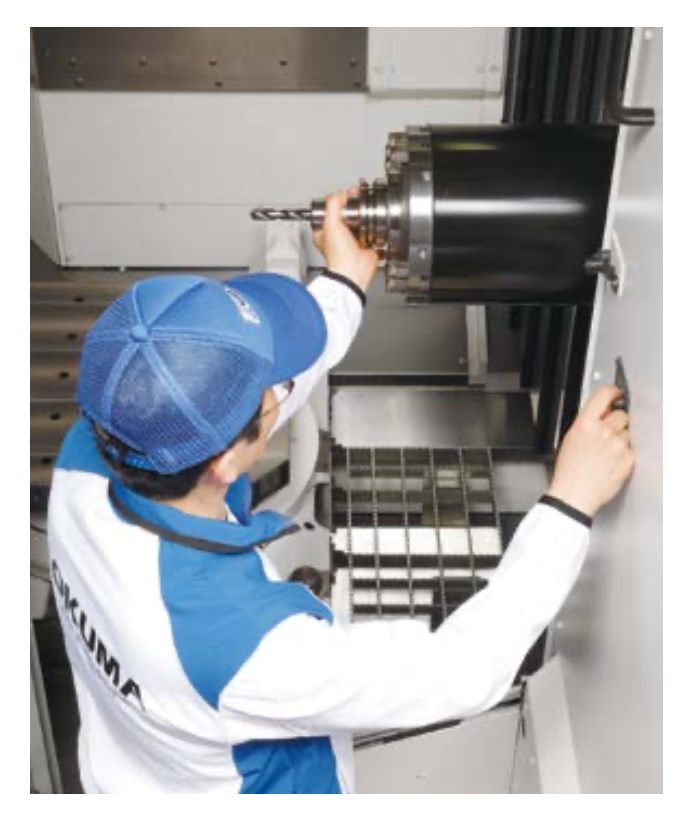 Operation panel mounted on the left Swivel movement improves
visibility and workability
● Workpiece and operation screen XYZ directions are the same
● Operator can be close to the screen, for less fatigue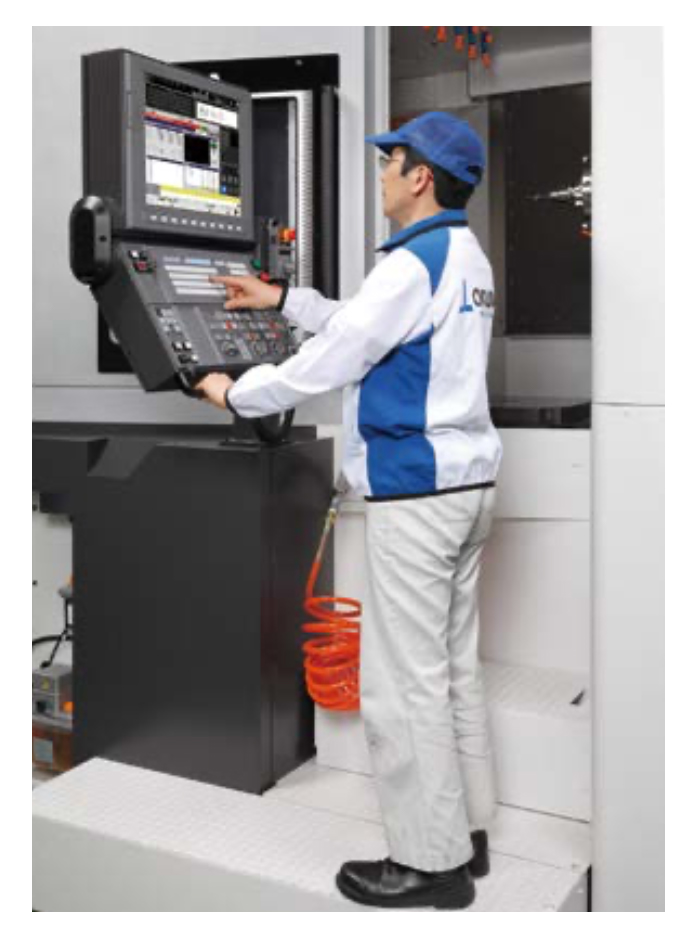 Open ceiling for setup station and workspace area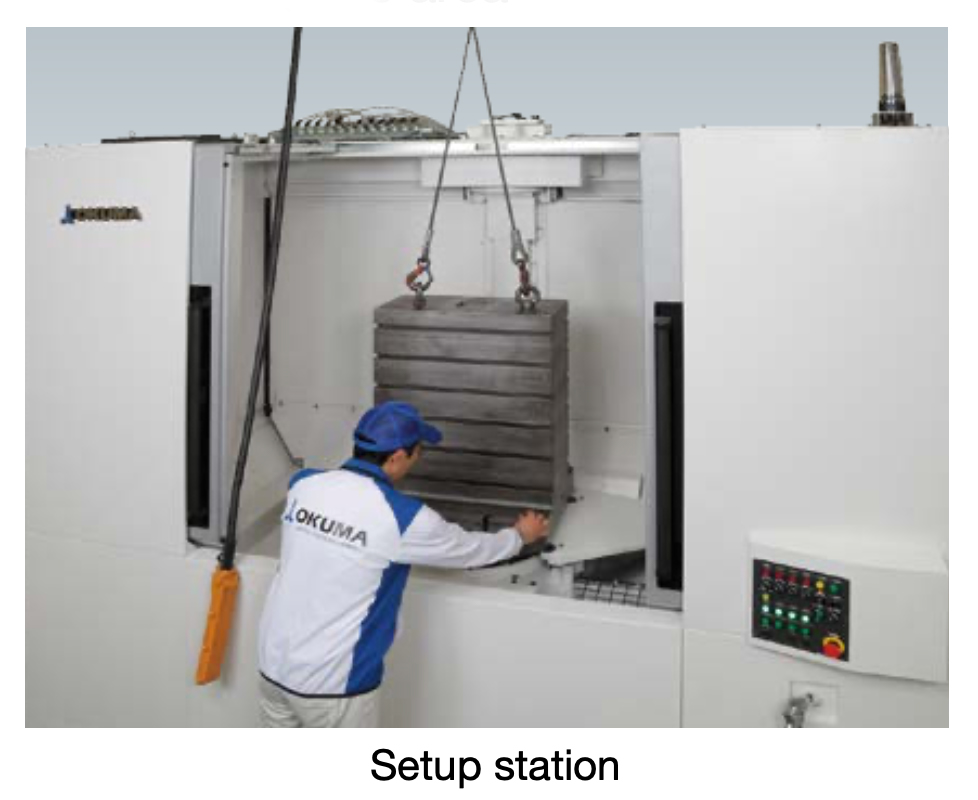 ● Easy part load/unload by crane
● Lighting is good, and coolant doesn't drop in the workspace area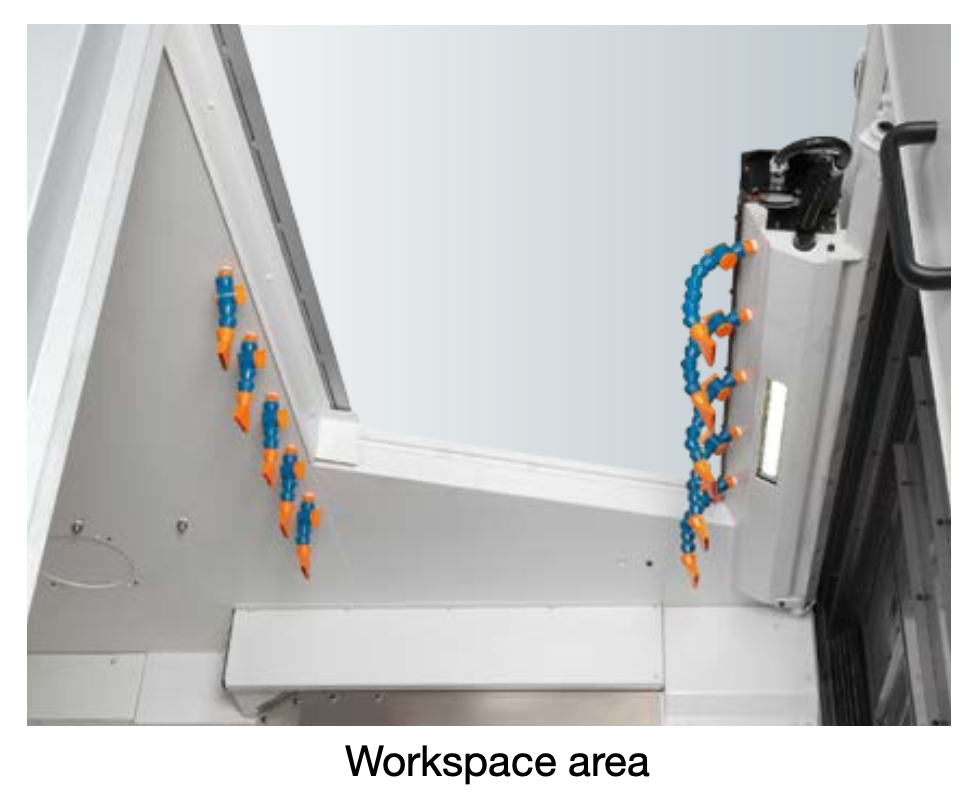 Outstanding dimensional stability even for long-run machining of large workpieces
Thermo-Friendly Concept
The unique approach of "accepting temperature changes."
Outstanding dimensional stability
Okuma's Thermo-Friendly Concept achieves high dimensional stability not only when the room temperature changes, but also at machine startups or when machining is resumed. To stabilize thermal deformation, warming-up time is shortened and the burden of dimensional correction during machining restart is reduced.
Machine is structurally designed to achieve outstanding accuracy
● Highly rigid 3-point supported bed
Easy installation thanks to bed that does not twist. Supporting stable, high accuracy over a long period.
● Ball screw bracket
The ball screw brackets at both ends of the X-Y-Z axes are reinforced and combined for highly accurate drive and positioning.
● Ball screw cooling
X-Y-Z axes ball screw cooling and Y-axis motor bracket cooling are standard. Assuring stable accuracy during high rates of operation.
● Indexing table and pallet Highly accurate indexing table
• Standard: Curvic coupling (1 degree indexing)
• Optional: NC (0.001 degree indexing)
The pallet seating on a tapered cone achieves highly accurate positioning and excellent durability.
Productivity improved by shortening non-cutting time
Shorter tool change times are possible when using thru-spindle coolant
● Suction of excess coolant in spindle Removes residual coolant in the tool and spindle in one draw: 0.4 seconds (drill actual data). In-spindle coolant suction eliminates the need for an air blow (minimum 15 seconds) to remove residual coolant, shortening tool change time.

Coolant suction time: 0.4 seconds*1 *1. Coolant suction time varies depending on the tool.
Shorter table indexing times
Table indexing time is shortened by the SERVONAVI Rotary Axis Inertia Auto Setting function.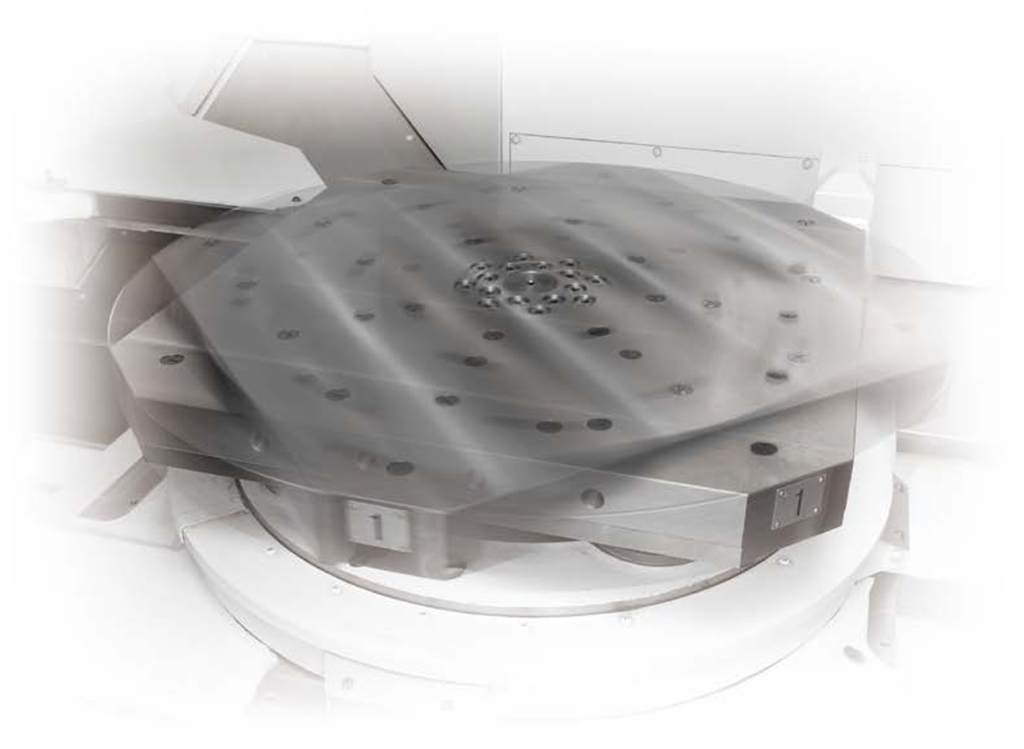 Table indexing time [1 degree indexing]
1.6 sec/90°*2 20% reduction (compared to previous model)
Table indexing time [0.001 degree indexing]
1.4 sec/90°*2 44% reduction (compared to previous model)
High speed operations
Rapid traverse
60 m/min (X-, Y-, Z-axis)
Rapid acceleration
0.7 G (max)
Tool change
2.0 sec (T-T) / 3.7 sec (C-C)
/ 3.7 sec (CTC min)
Pallet change time
12 sec / 13 sec
Chip discharge that maximizes uptime
With simple workspace covering and reinforced coolant applications, efficient chip discharge and long-run applications possible
Just Z-axis travel single cover and a smooth X-,Y-axis telescopic covers suppress chip accumulation. Moreover, in dry machining without coolant, washing only the lower workspace area with coolant is possible. In-machine washing prevents likely areas of chip accumulation, by cleaning away chips to maintain long-run production runs.
Chip discharge and workspace area designed to prevent chip accumulation
In-machine wash coolant: 450 L/min (18% improvement compared to previous machine)
Stronger workspace lower area wash and hinge conveyor smoothly removes large-volume coolant and accumulated chips out of the machine.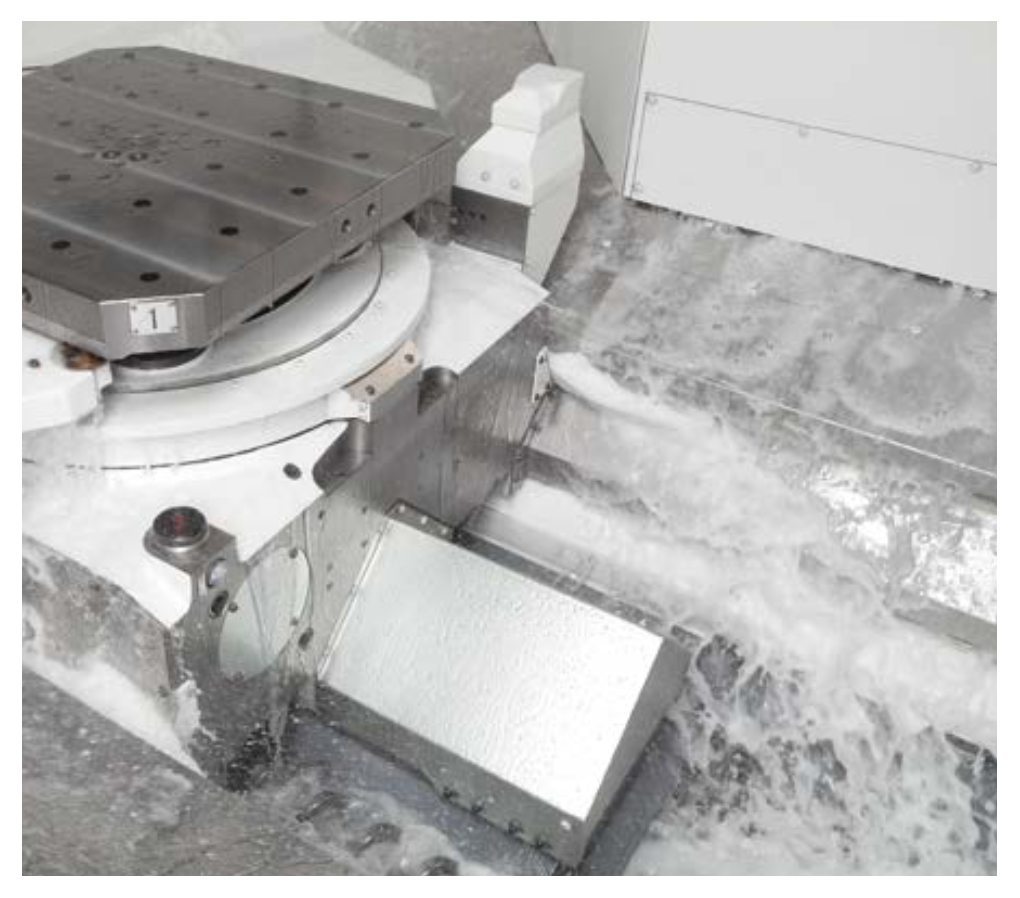 From the upper area of the workspace, a shower coolant system (option) and coolant from the X-,Y-axis telescopic covers suppress chip accumulation.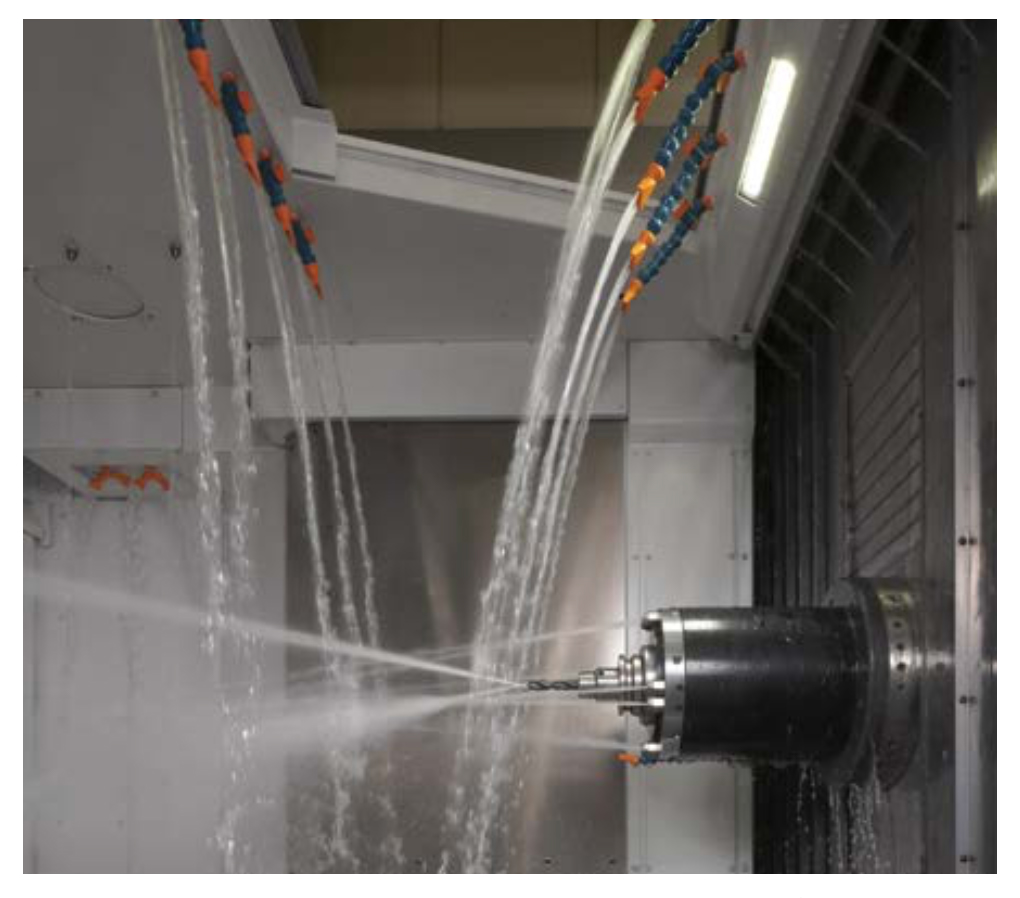 Preventing chip accumulation with smooth X-,Y-axis telescopic covers and Z-axis stainless steel single cover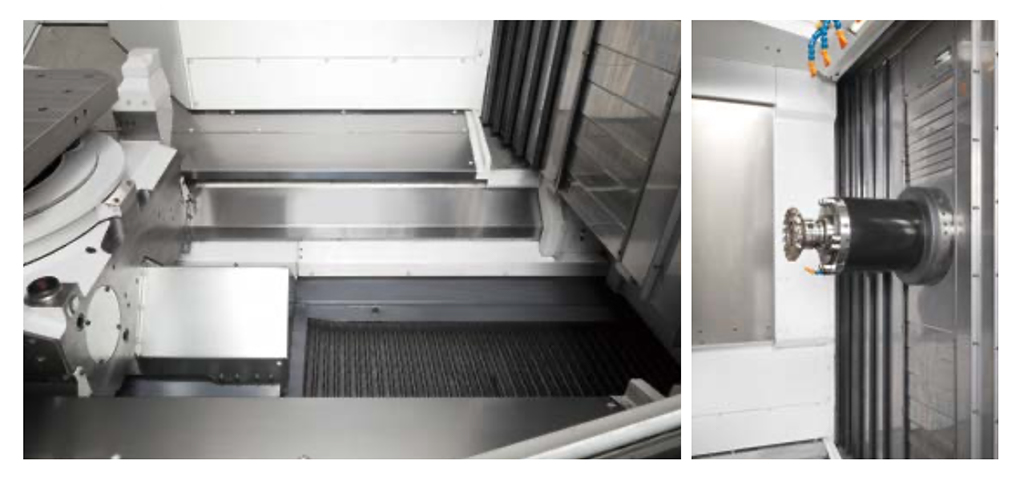 Flat covers in the workspace prevent chip accumulation

Center trough design enhances large amount of chip discharge out of the machine
Out-of-machine chip discharge
Optional a lift-up chip conveyor that discharges chips to the outside of the machine, and a Sludgeless Tank (recommended option) that efficiently collects sludge are available.
"Sludgeless Tank" enhances stable operations
(recommended option)
Suppresses sludge accumulation in the coolant tank. Dramatically reducing troublesome tank cleaning work
Coolant sludge removal, less environmental impact when disposing coolant
Sludge removal rate 99% (for castings) 97% (for aluminum)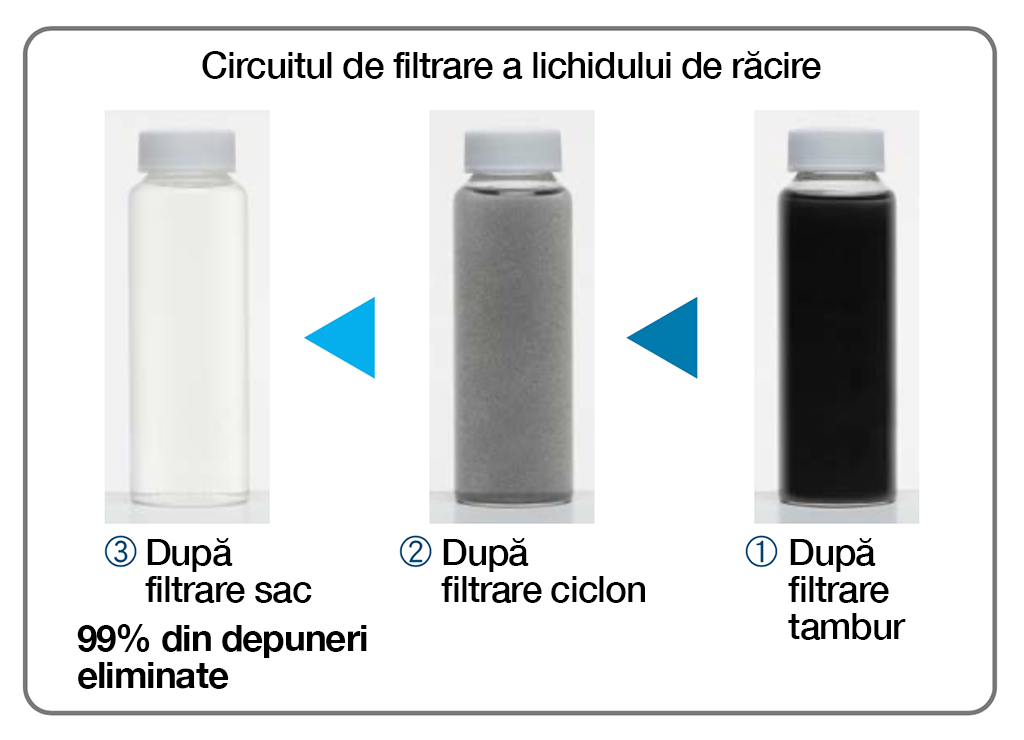 No tank cleaning required for two years!
Unidirectional coolant flow in the Sludgeless Tank also suppresses coolant deterioration due to stagnation. Coolant replacement frequency is greatly reduced, and the environmental impact is less when coolant disposal amounts are also reduced.
Keeping spindle tapers clean
The three filtration devices in the Sludgeless Tank and coolant suction inside the spindle reduce dirt on the spindle taper and lessen defective machining.

Compact—integrated with the through-spindle coolant tank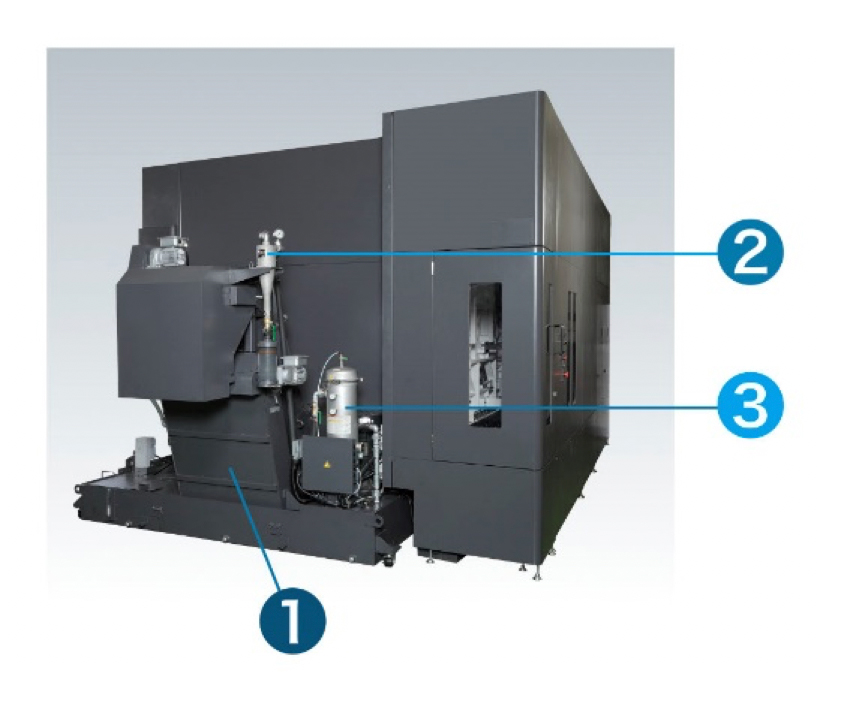 The thru-spindle coolant tank is integrated, and the coolant heater/cooler (option) can be mounted on the tank, saving space.
Automation support to further improve productivity
Flexible automation support
Equipped with a large number of thru-pallet fixture ports (option)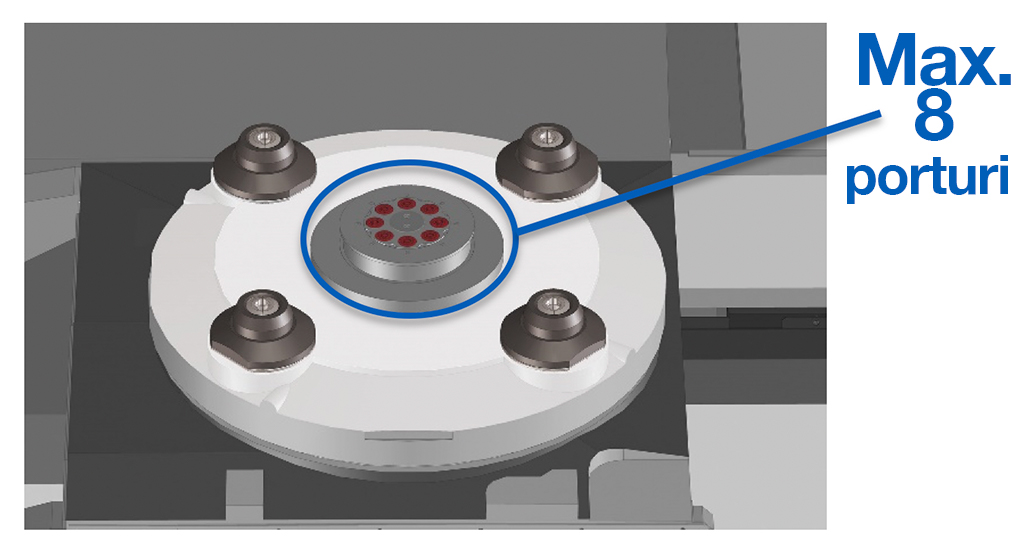 The setup station pallet base can be equipped with up to 16 fixture ports for hydraulic and pneumatic pressure, and the workspace area table base can have up to 8 ports for flexible automation applications.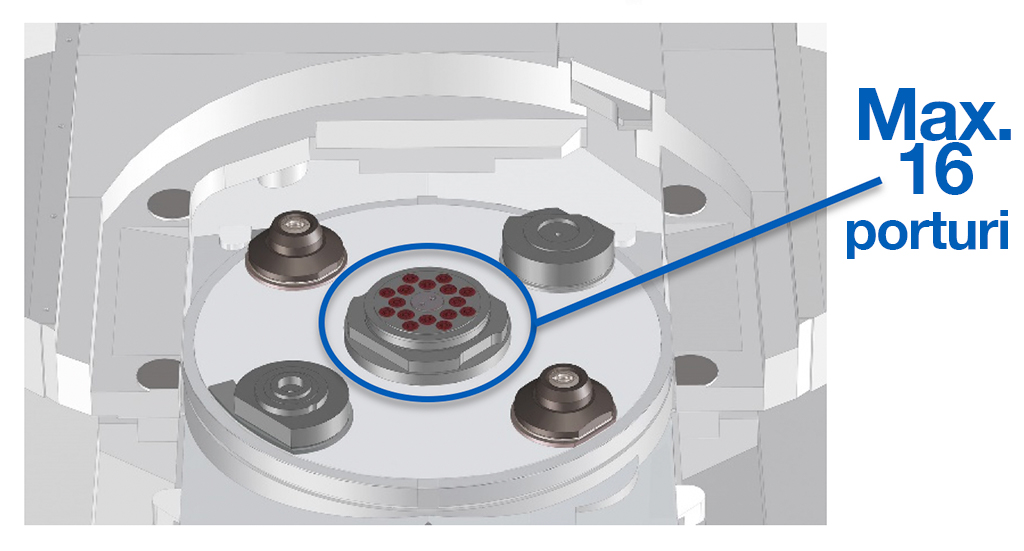 Hydraulic circuits that tend to be complicated can be simplified, and auto-clamp fixture designing becomes easy. Customers benefit from more freedom in systemizing and in meeting more diverse automation needs.
Auto Setup Station Pallet Rotate (option)
This feature automatically rotates the setup station pallet in 90° increments by stepping on the foot switch. Operator efficiency has been improved, and robotic part load/unload can be done from multiple fixtures.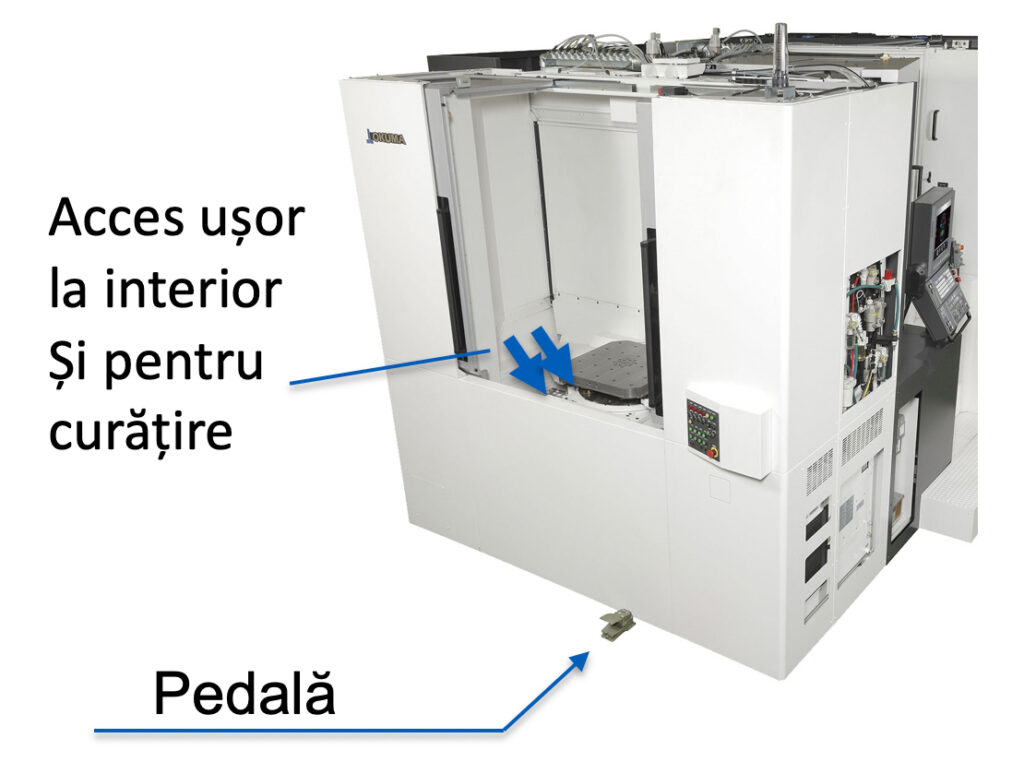 Flexible production of large-variety workpiece applications
An impressive lineup of automation systems
Flexible APC systems*
Multi-pallet APCs allow the operator to single setup a large number of workpieces, and use the extra time available for other jobs. Setups at the end of the day for untended operations are also a benefit.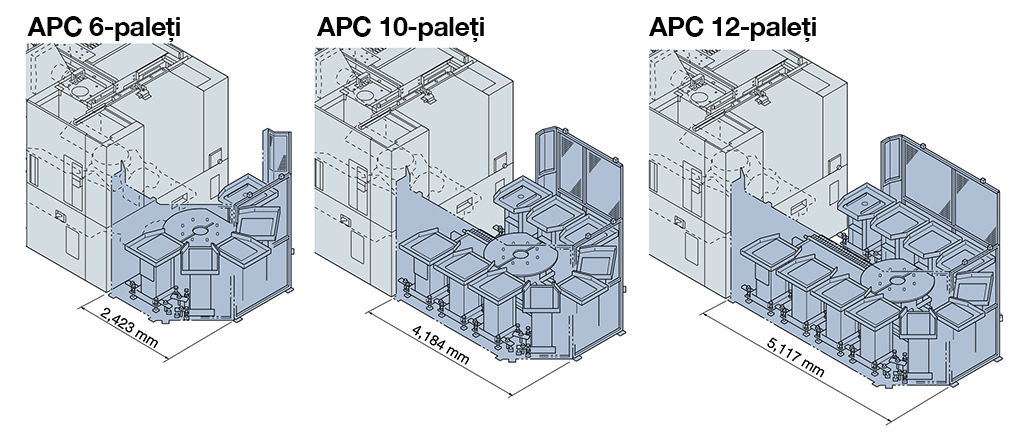 ● Multi-pallet APC connects to standard 2-pallet rotary-shuttle APC ● Pallet change time is the same as in the standard APC
● Can be adapted to match plant layout and type of production
Multi-Pallet Tower APC*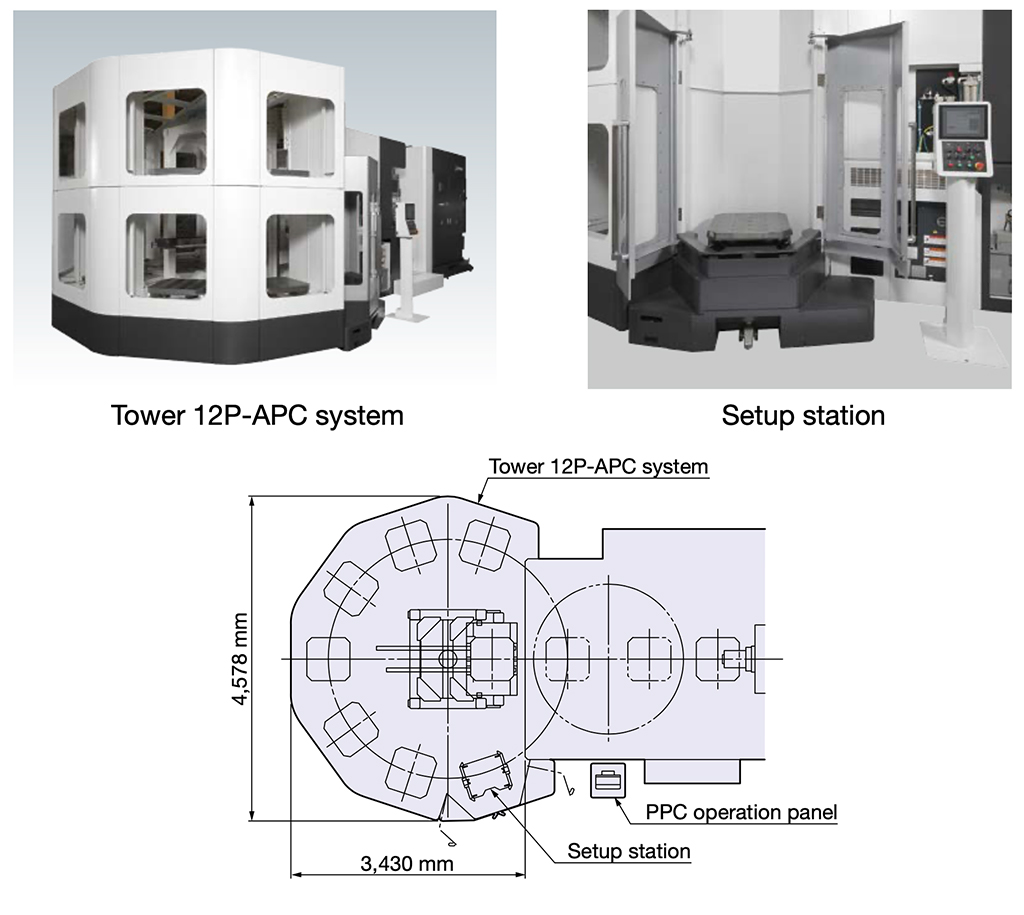 Auto tool changer
The standard number of tools that can be stored is 60. Flexible, high-volume tool storage systems available for adding more types of workpieces. Matrix magazines store larger numbers in compact, quick tool-change arrangements.
● Matrix magazines: Tool preparation time
Minimum: 12 seconds (multiple magazines: 19 seconds)
ATC magazine capacity
Magazine type
40 tools,
60 tools (standard)
Chain magazine
81 tools, 111 tools, 141 tools, 171 tools
Matrix magazine (171 tool cabinet)
195 tools, 225 tools, 255 tools, 285 tools
Matrix magazine (285 tool cabinet)
320 tools, 400 tools
Multiple magazine
Advanced technology—effective for machine shops
SERVONAVI Optimized Servo Control
SERVONAVI AI (Automatic Identification)
● Work Weight Auto Setting
Cycle time shortened with faster acceleration
● Rotary Axis Inertia Auto Setting Maintains high accuracy and stable movements
SERVONAVI SF (Surface Fine-tuning)
● Reversal Spike Auto Adjustment
Maintains machining accuracy and surface quality
● Vibration Auto Adjustment Contributes to longer machine life
Collision Avoidance System (option) Collision prevention
Machining Navi M-i, M-gII+ (option) Cutting condition search for milling
Hyper-Surface (option) Auto machining data compensation
Further improvement of machined surface quality with new machining data compensation
By suppressing streaks and edge irregularities caused by CAM machining data, hand finish polishing time can also be reduced. In addition to the Sculptured-Surface Adaptive Acceleration Control with the previous Super-NURBS, the new Hyper-Surface function automatically compensates for edge positioning errors of the machining data output from CAM or the adjacent cutting path while maintaining shape accuracy.
Turn-Cut (option)
Shorter lead times with process-intensive machining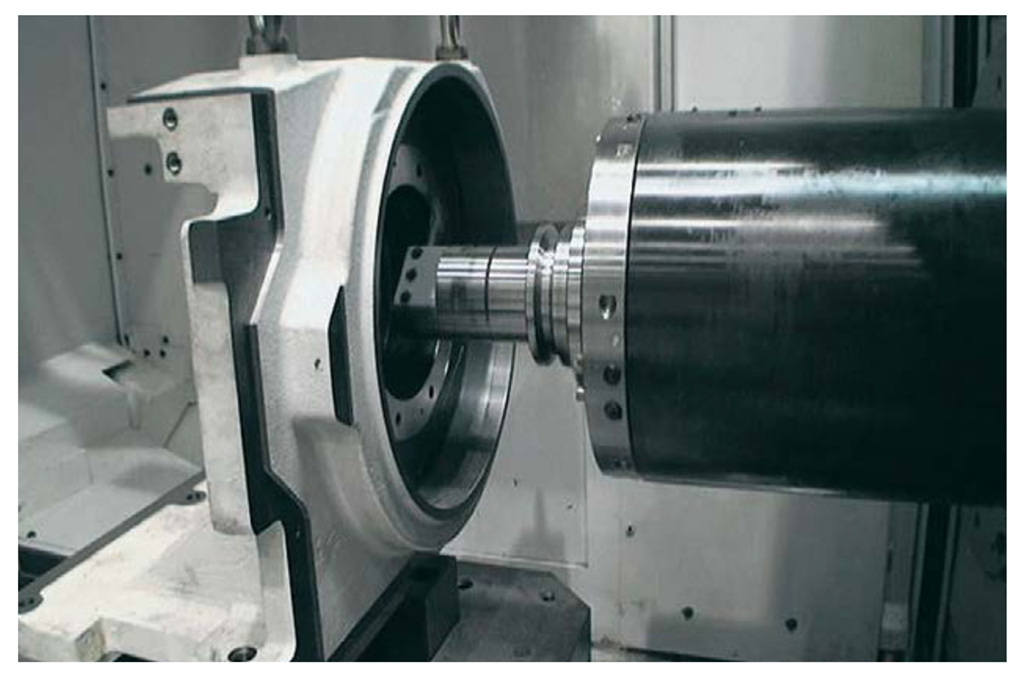 Simultaneously controlling X-Y circular motion with the tool edge position rotated by the spindle tool enables lathe-like turning.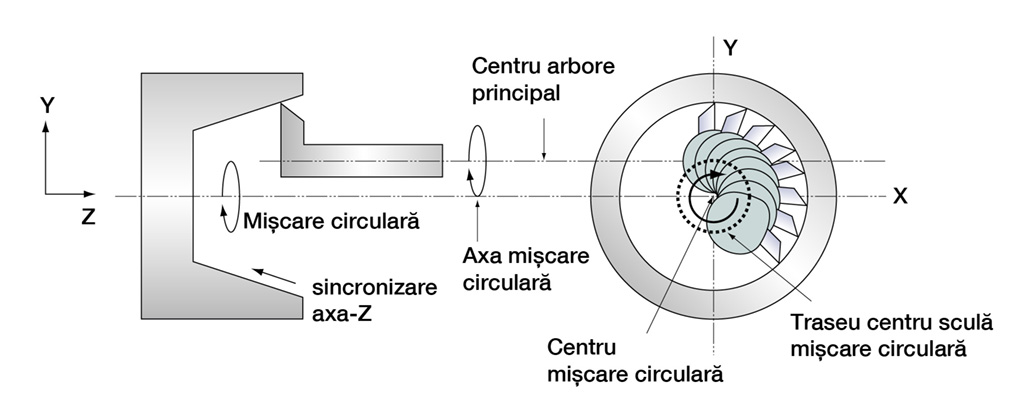 ● Tapers also possible
● Hole making with different diameters — with one tool
● Machine IDs/ODs with ATC-oversized large tool diameters
AI Machine Diagnosis (option)
Machine tool diagnostics technology with artificial intelligence (AI)
With predictive maintenance, prevent machine stoppages just in time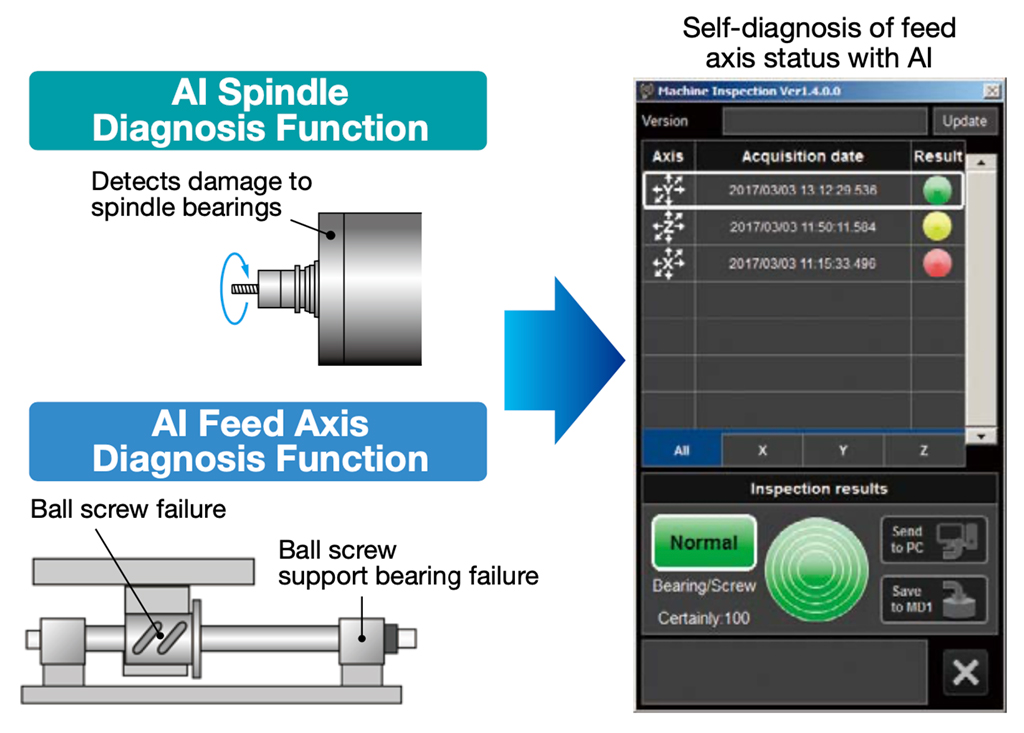 Okuma's AI-equipped control diagnoses the presence or absence of abnormalities in the machine spindle and feed axes and identifies any irregularities found.
Downtime from machine stoppage is minimized, so the benefits are highly accurate, productive, and stable operations over the long term. The operators themselves can easily diagnose the machine by following simple screen guidelines on the Okuma control.
// Part 2 end
Design Inteligent
This next-generation horizontal machining center weighs in at a massive 55,000 pounds, ensuring structural stability and consistent precision machining operations for the long haul. This machine has a larger work envelope than its predecessor, with added X-axis travel capabilities. Additionally, the MA-600HIII can perform automatic tool change operations in less than four seconds flat!
Additional enhancements have also been made to Okuma's market-leading thermal management technology, including decreased temperature deviation of the machine to an improved 7μ (seven micron) dimensional change per 24-hour period. This is particularly effective when faced with severe swings in the ambient temperature.
Acest centru de prelucrare orizontal de ultimă generație cântărește 25.000 kg, asigurând stabilitate structurală și operațiuni de prelucrare cu precizie consistente pe termen lung. Această mașină are un spațiu de lucru mai mare decât predecesorul său, cu capacități suplimentare de deplasare pe axe extinse cu 100mm. În plus, MA-600HIII poate efectua operațiuni automate de schimbare a sculei în mai puțin de patru secunde!
Au fost aduse, de asemenea, îmbunătățiri suplimentare tehnologiei Okuma de management termic, lider pe piață, inclusiv reducerea deformărilor termice a mașinii la o schimbare dimensională îmbunătățită de 7μ (șapte microni) pe o perioadă de 24 de ore. Acest lucru este deosebit de eficient atunci când se confruntă cu variații severe ale temperaturii ambientale din fabrică.
Sisteme nou de gestionare a șpanului și a lichidului de răcire
The Okuma MA-600HIII features an enhanced coolant management system, ball screw cooling for the X, Y and Z axes, an upgraded workspace design to prevent chip accumulation, and improved chip evacuation functionality. This level of innovation maximizes uptime and allows for long periods of continuous machine operation.
Okuma MA-600HIII are un sistem îmbunătățit de gestionare a lichidului de răcire, răcire pentru șurubul cu bile pentru axele X, Y și Z, un design îmbunătățit al spațiului de lucru pentru a preveni acumularea de așchii și o funcționalitate îmbunătățită de evacuare a șpanului. Acest nivel de inovație crește timpul de funcționare și permite perioade lungi de funcționare neîntreruptă a mașinii.
The all-new sludge-less tank technology activates sophisticated filtering and liquid flow patterns of the chip / coolant mixture to mitigate settling of the mixture in the bottom of the receiving tank. This new technology reduces the need for time-consuming tank cleaning and affords increased machine operation time.
Tehnologia cu totul nouă a rezervorului fără reziduri este posibilă cu modelele noi sofisticate de filtrare și de scurgere a lichidului de răcire pentru a reduce depunerea amestecului în fundul rezervorului de primire. Această nouă tehnologie reduce nevoia de curățare îndelungată a rezervorului și oferă un timp de funcționare crescut al mașinii.
Prietenos cu automatizările
The MA-600HIII's flexible design allows for a variety of automation applications. The workspace area can equip up to seven part loading/unloading ports or up to eight workholding clamp ports, which can help eliminate the need for complicated circuit arrangements for hydraulic applications. Up to 16 ports are available in the machine's setup station, expanding part capacity and the possibilities for robotic applications.
Designul flexibil al MA-600HIII permite o varietate de aplicații de automatizare. Zona spațiului de lucru poate echipa până la șapte porturi de încărcare/descărcare parțială sau până la opt porturi de clemă de susținere a lucrării, ceea ce poate ajuta la eliminarea necesității unor aranjamente complicate de circuite pentru aplicațiile hidraulice. Până la 16 porturi sunt disponibile în stația de configurare a mașinii, extinzând capacitatea pieselor și posibilitățile pentru aplicații robotizate.
Equipped with an impressive list of standard features, the Okuma MA-600HIII is a reliable and profitable addition to any shop floor. Visit okuma.com/products/MA-600HIII for more details and to request a quote.
Echipat cu o listă impresionantă de caracteristici standard, Okuma MA-600HIII este un plus de încredere și profitabil pentru orice atelier. Contactați-ne pentru mai multe detalii și pentru a solicita o ofertă.
Video Prezentare // EMO 2021
Specificații Tehnice
| | |
| --- | --- |
| Dimensiuni Masă [mm] | 630 x 630 |
| Greutate [kg] | 25,000 (55,000) |
| Viteze Arbore Principal [rot/min] | 6,000 [10,000, 12,000, 15,000, 20,000] |
| Nr. de Scule | 60 [81, 111, 141, 171, 195, 225, 255, 285, 320, 400] |
| Putere Motor [kW] | 30/22 [45/37], [37/26], [26/18.5] |
| Curse Axe [mm] | X: 1,050 / Y: 900 / Z: 1,000 |
| Opțiuni / Automatizări | Automatizare Tower APC |
Produse Similare
Resurse / Linkuri